Are you working on your July 4th plans? I've got fab ideas for your food AND entertainment. Grab some friends, grill up some spicy sausages with peppers and onions, and watch the Cornhole League Pro Invitational Event on ESPN2. Now that's an Independence Day to remember! This post is sponsored by Johnsonville Sausages.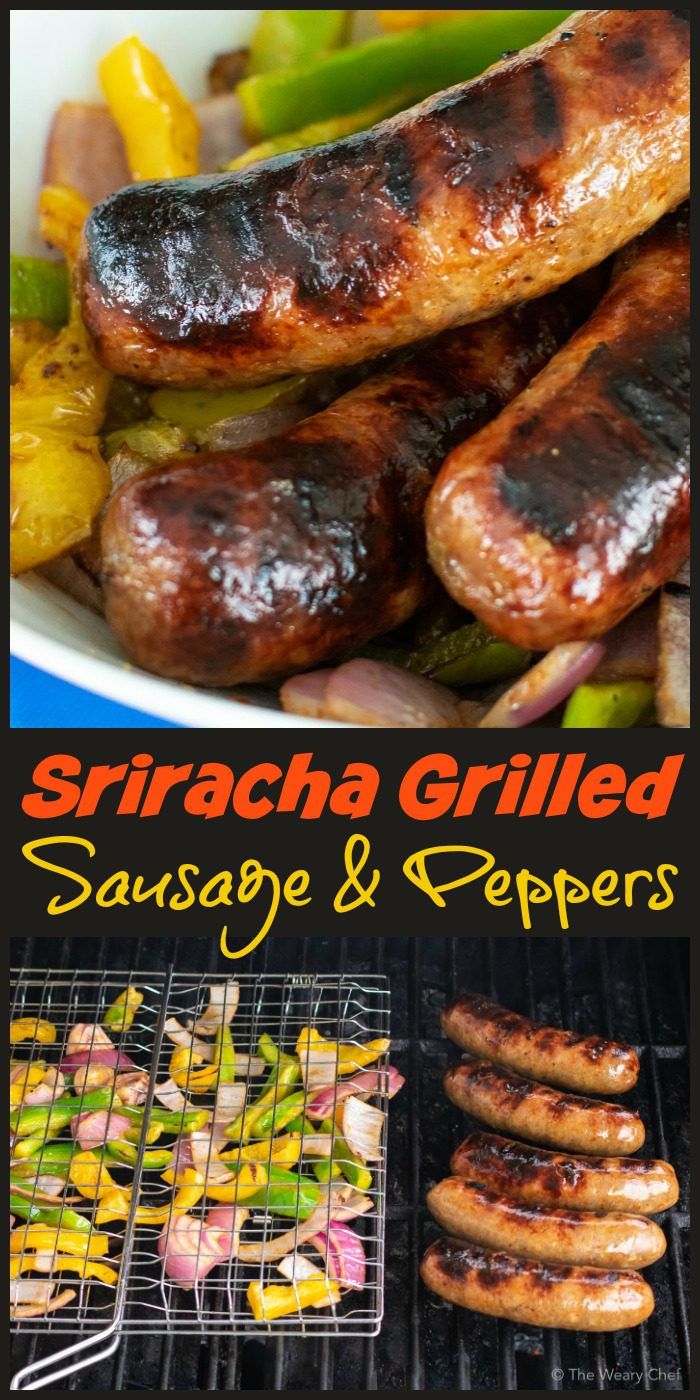 If you ask me, Fourth of July isn't a day for slaving away in the kitchen. It's a day to kick back with your friends, stand around the grill with a beer, and wait for nightfall to see fireworks. That's why today's recipe doesn't need any measuring or whisking or waiting.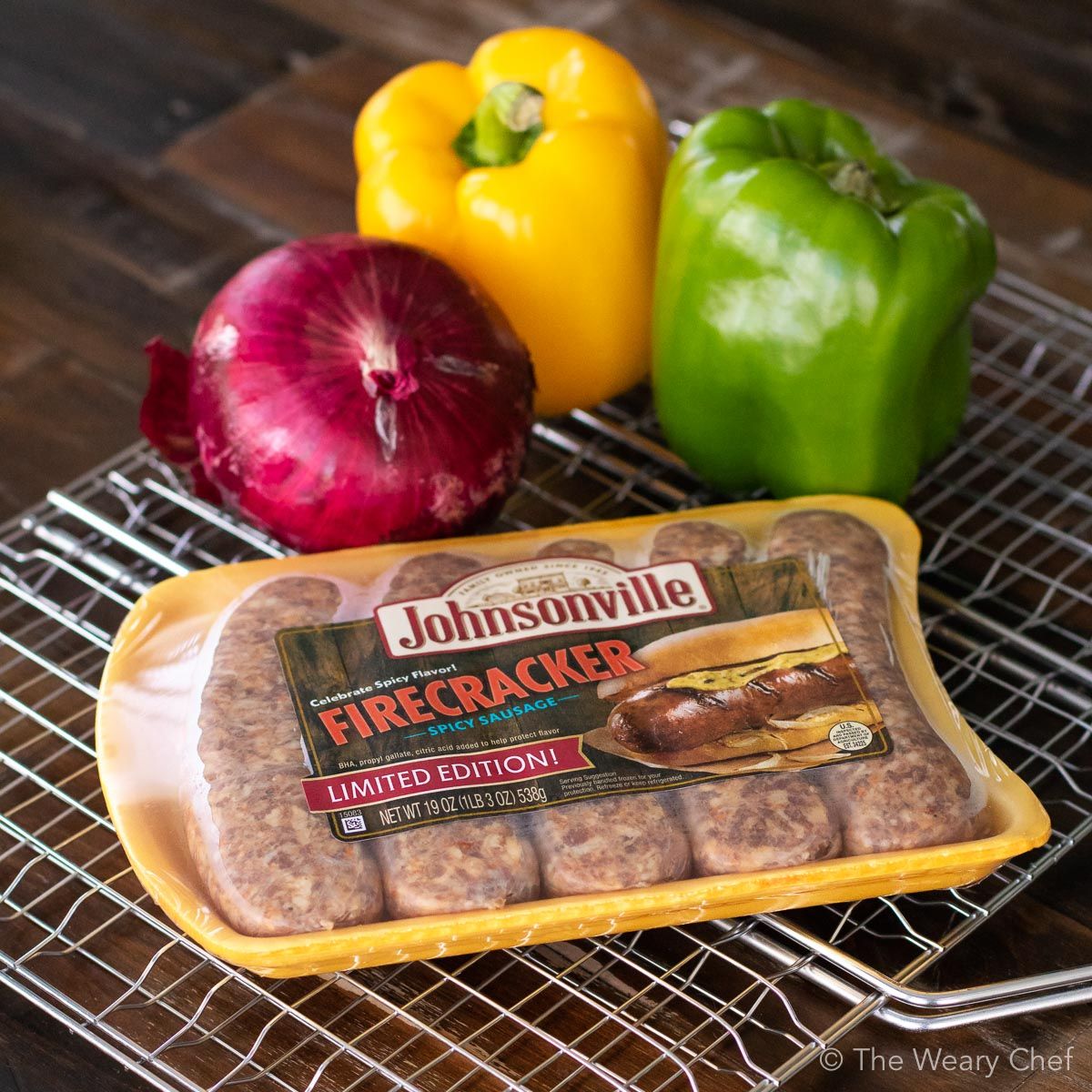 All you need is Johnsonville sausages, a couple peppers and red onion, and a few pantry staples. Just in time for the holiday, Johnsonville has limited edition Firecracker Brats that will spice up any 4th of July gathering. We all know you can't spell SaUSAge without USA, and these tasty brats are proudly made right here in America.
Firecracker Brats are a little spicy to add some kick to your holiday, and they are even better when served with grilled sriracha peppers and onions. Like I said, you don't need to do any fancy measuring for this recipe. The sausages are already ready to go, so they just need to be grilled to perfection. For the veggie marinade, simply stir together a glug of olive oil, squirt of sriracha (or other favorite hot sauce), sprinkle of garlic powder, and heavy pinch of salt.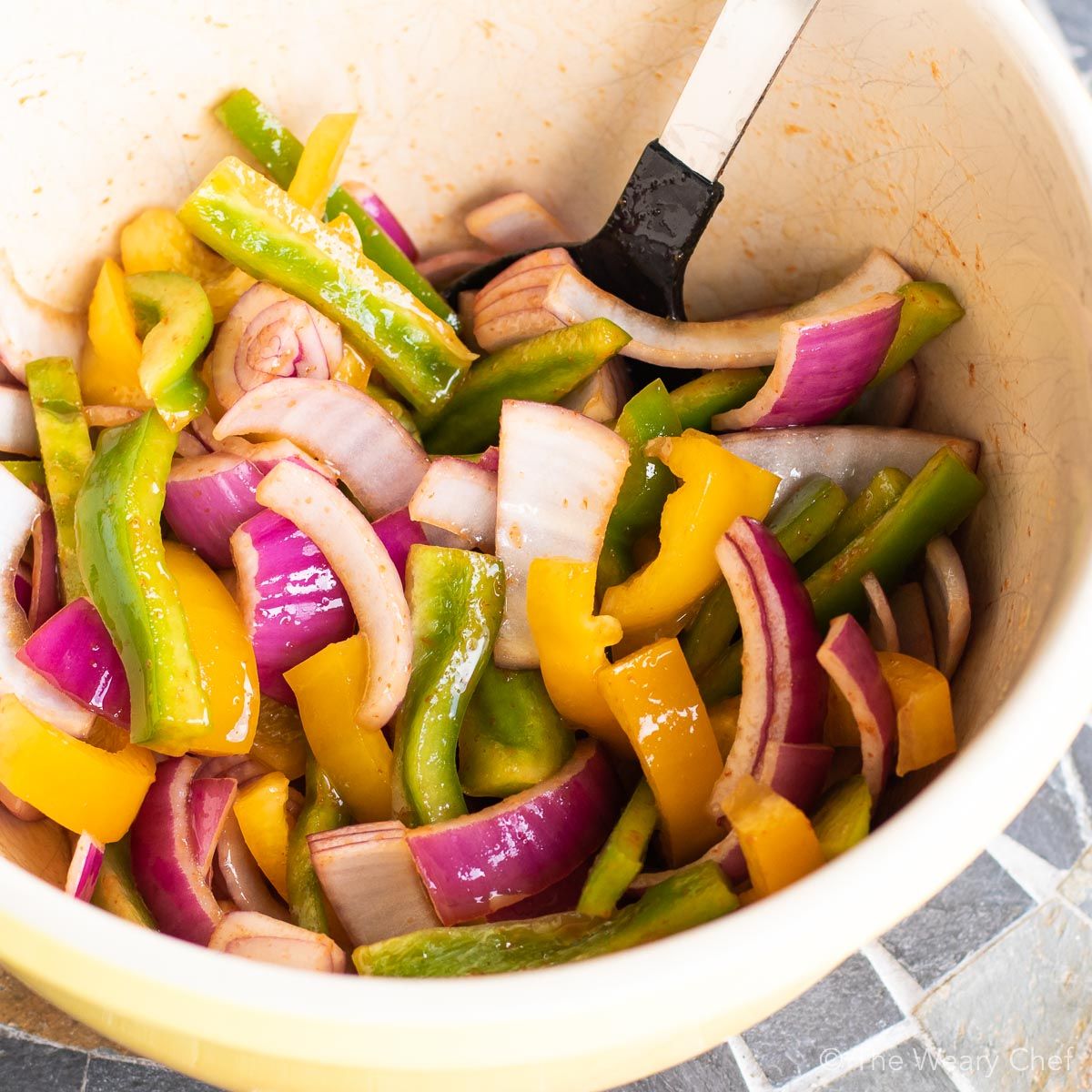 Once you get your spicy oil base mixed up, stir in chopped red onion and bell peppers to coat them. You can do this a few minutes or a few hours ahead of time. The longer the veggies soak, the more flavor they will get.
I grilled my vegetables in a grill basket, but you can also do it on heavy duty aluminum foil right on the grill grates. I used medium heat for the sausages and the veggies, and I gave the sausages a head start, After they grilled a few minutes on the first side, I added the vegetables.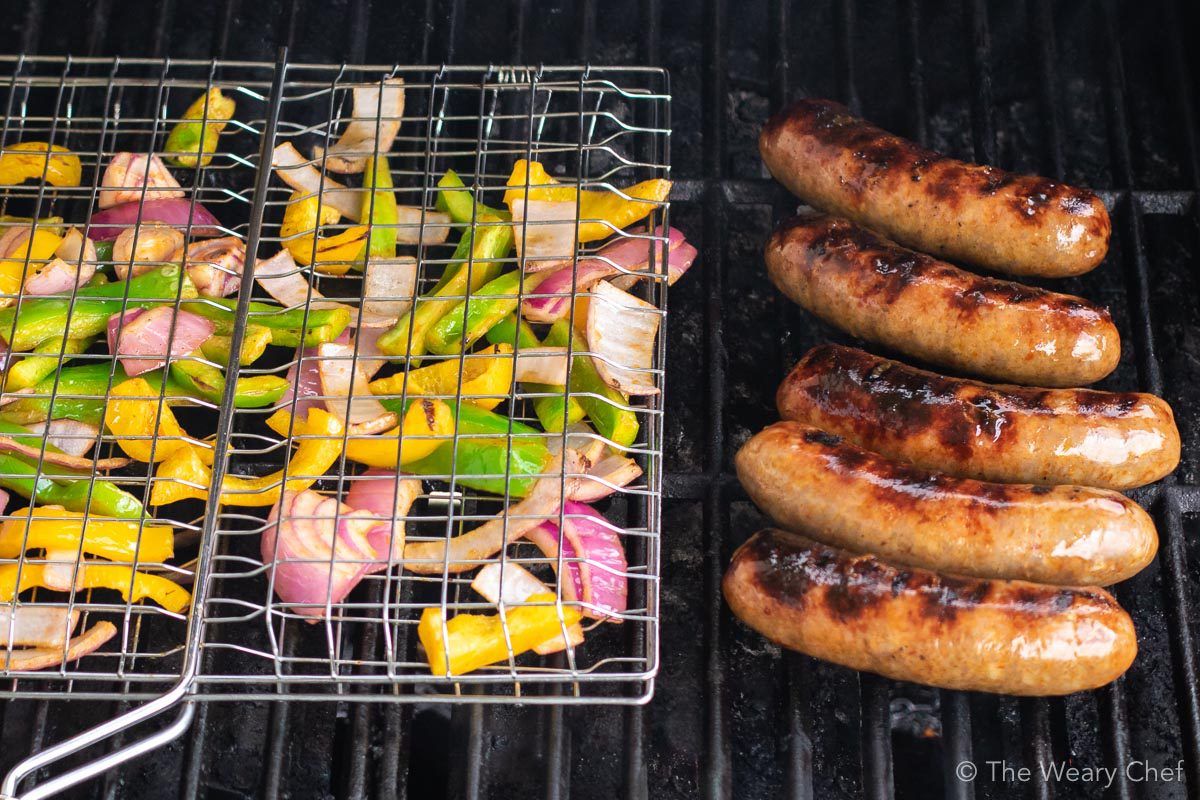 Flip or stir the vegetables once as they cook. I like to flip my sausages three or four times to make sure they cook evenly without burning on the outside. Make sure your sausages reach an internal temperature of 165, which I check with a meat thermometer.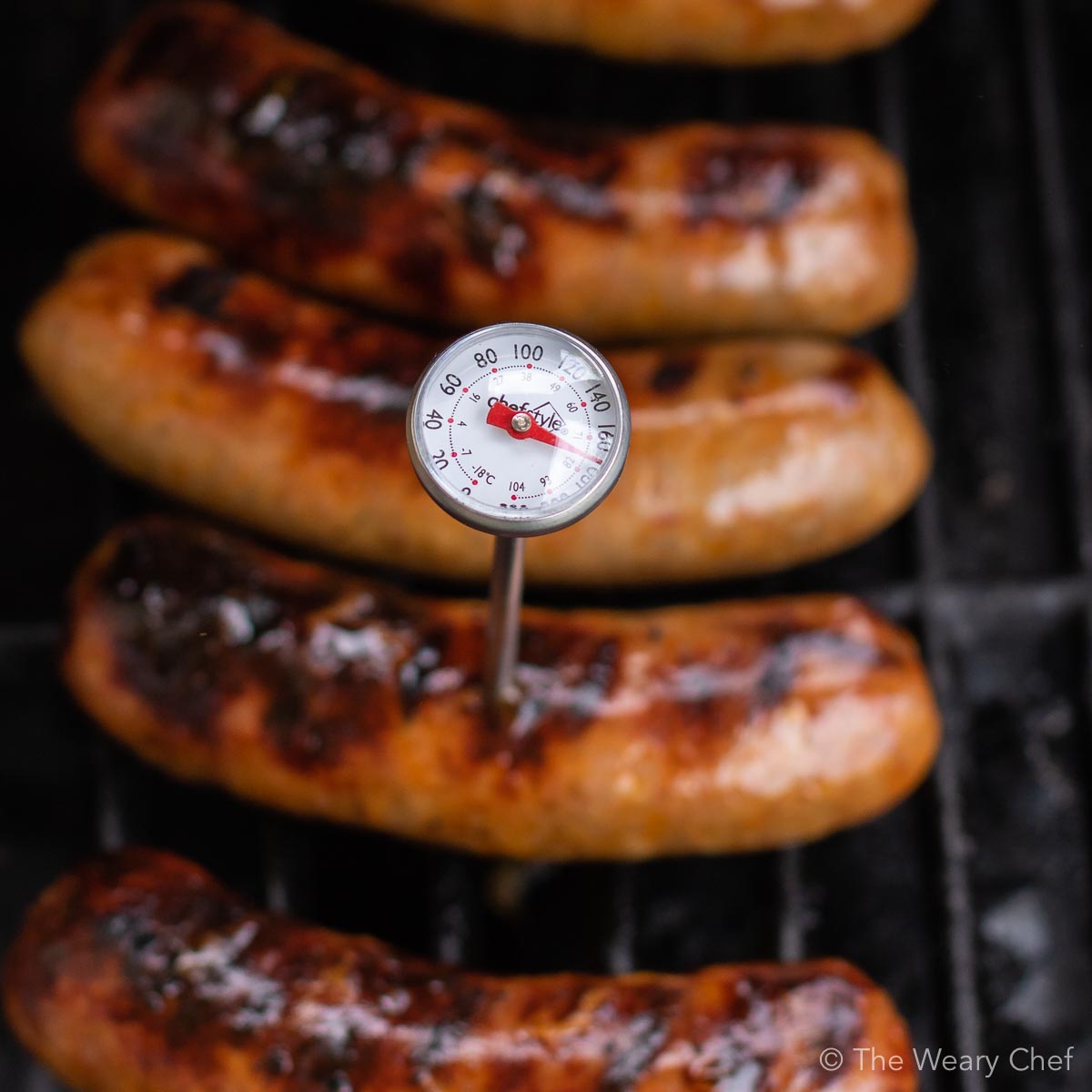 Just look at those beauties! Grab some buns and mustard, or just a knife and fork if you're gluten free like me. Now that the food is covered, let's talk cornhole!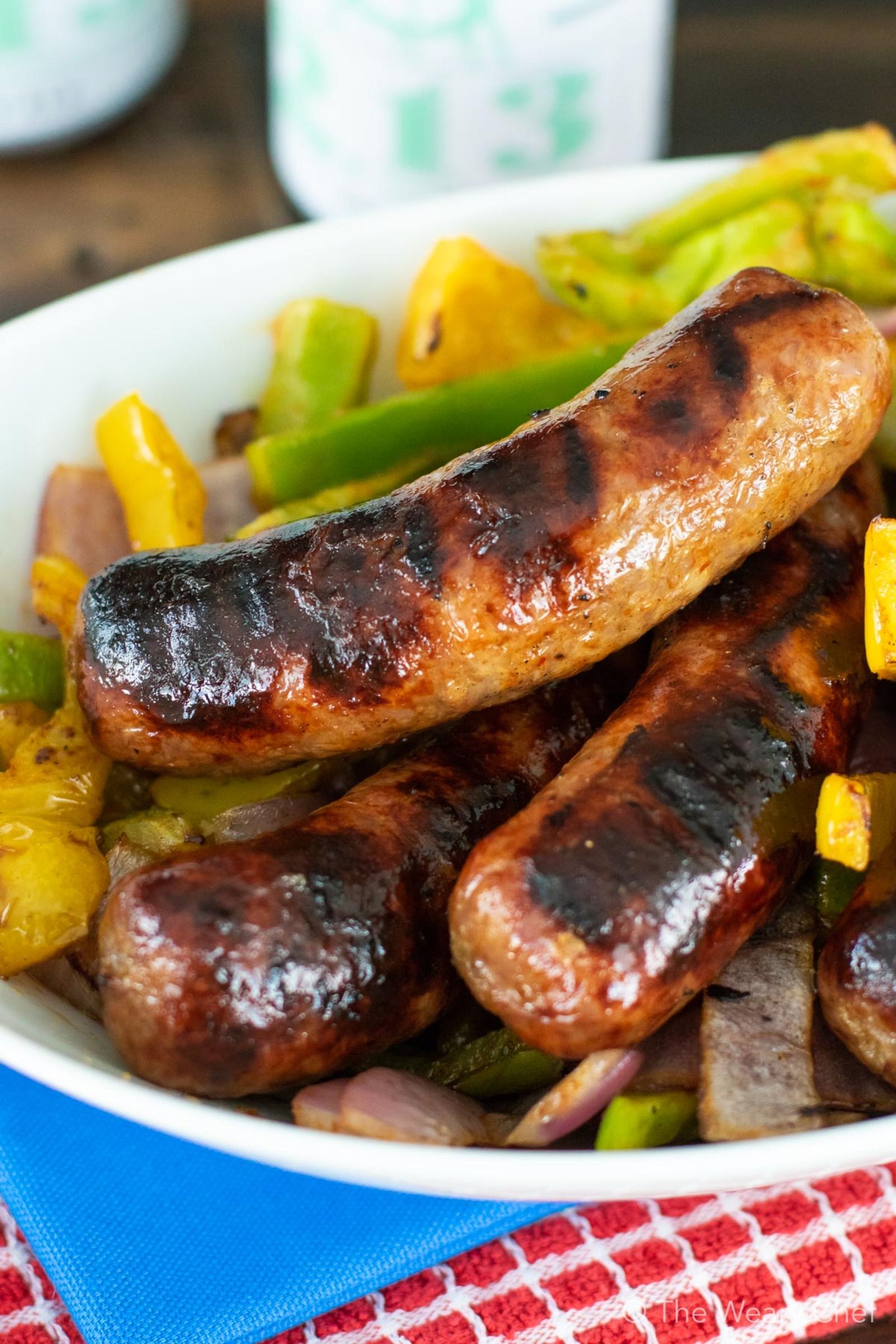 Maybe you thought cornhole was just a casual backyard game. OR, maybe (*gasp*) you don't even know what cornhole is! Either way, we need to talk.
In case you didn't know, cornhole is a game of throwing small bags filled with dried corn into a slanted board with one hole at the top. The simplified rules are that players take turns throwing corn bags at the board. A bag in the hole scores three points, and a bag on the board scores one point. To win a match, a player or team must be the first to reach 21 points.
This year, you can check out the American Cornhole League's Pro Invitational event at Coney Island, sponsored by Johnsonville, which is airing on ESPN2 from 1:00 – 3:00 p.m. ET on July 4. It's a family-friendly tournament that has all of the drama and suspense of a major sporting event. Sixteen of the best Cornhole players in the country will square off for $20,000 in prize money.
To get you pumped up for the event, check out some of the hilarious action in this video!
If you live in the area, the event is free, open to the public and begins at 10 a.m. ET at Coney Island's MCU Park (1904 Surf Ave, Brooklyn, NY). If you can't make it in person, be sure to tune in and watch the action live on ESPN2 from 1:00 – 3:00 p.m.
I hope you have an awesome holiday with plenty of sausage eating and cornhole watching. Happy Fourth of July!!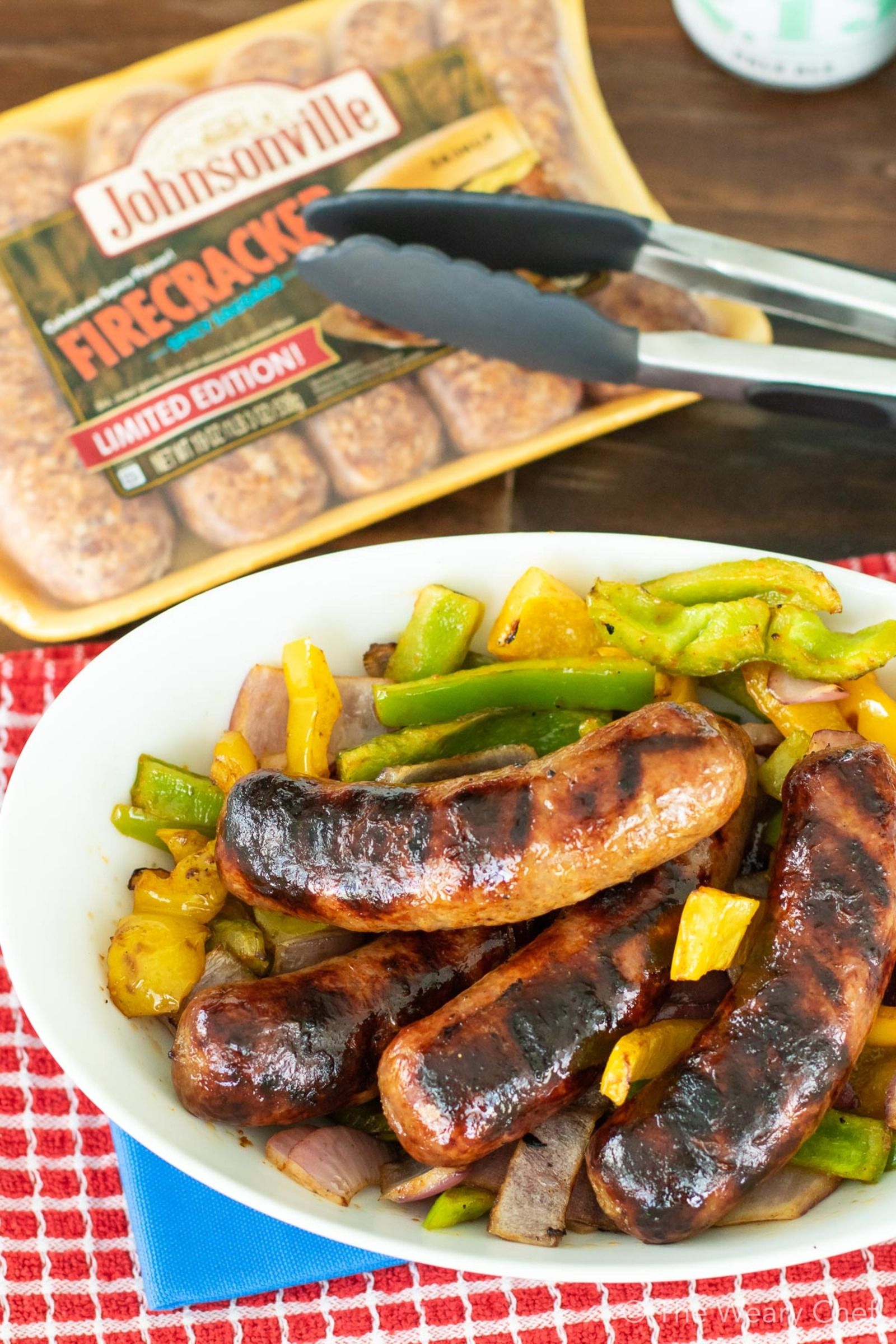 This is a sponsored conversation written by me on behalf of Johnsonville. The opinions and text are all mine.
[mv_create key="4″ type="recipe" title="Spicy Sriracha Grilled Sausage and Peppers" thumbnail="https://wearychef.com/wp-content/uploads/2018/06/sausage-1.jpg"]