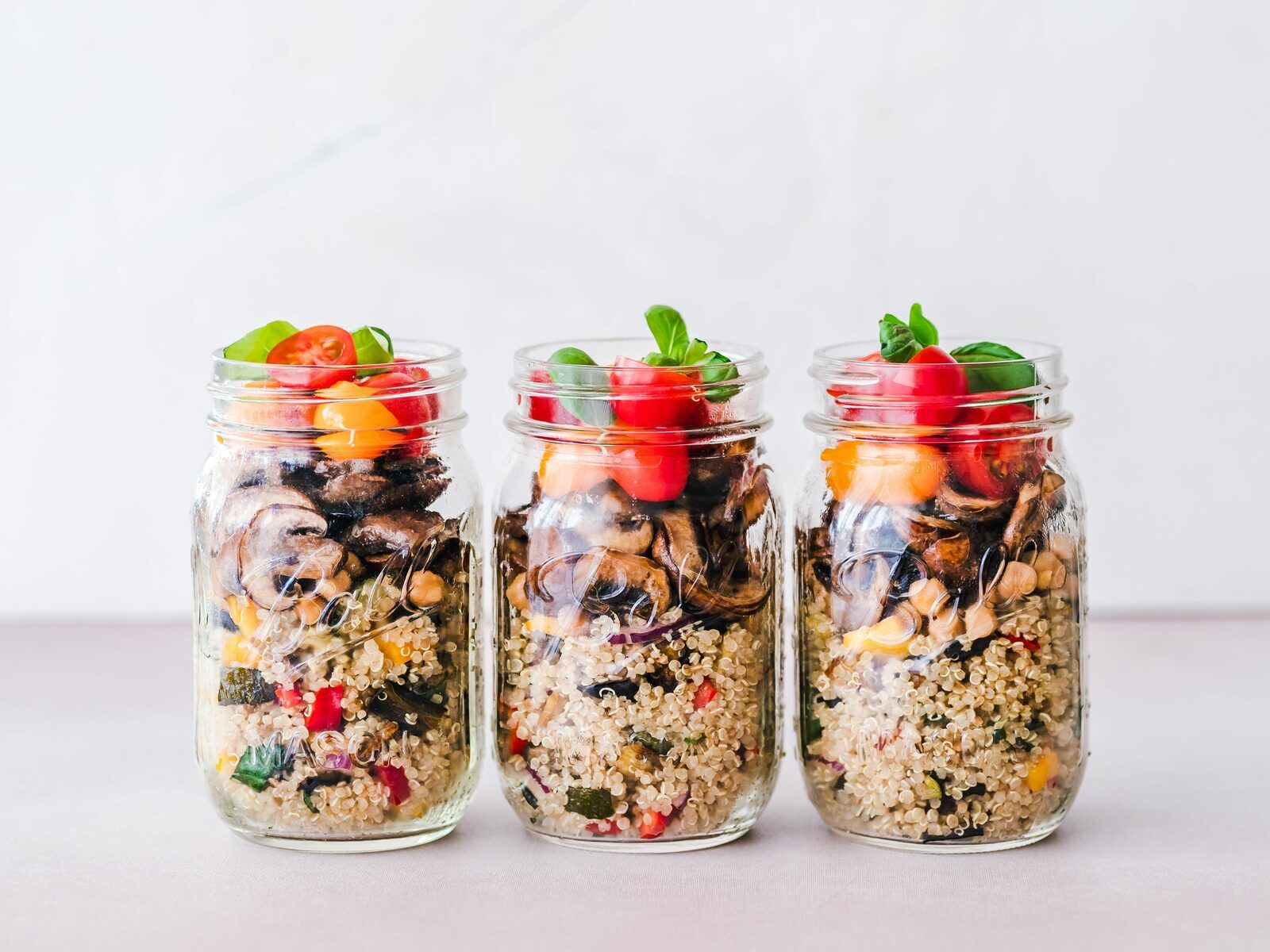 Living in our modern, over-scheduled world we are often pressed for time when it comes to preparing our meals. With little time to prepare our daily meals, we are much more likely to choose takeout or going out to a restaurant instead of preparing meals ourselves.
These meals are often less healthy and much more expensive than meals you can prepare at home. Meal prep can be the solution and we have included four awesome meal prep recipes below to get you started.
What Is Meal Prep?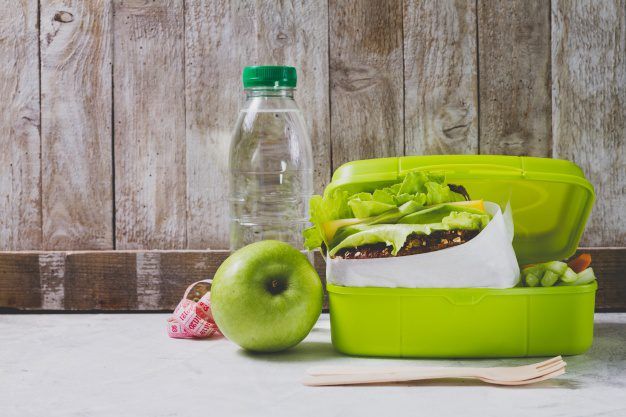 Image via Freepik
Meal prep is the preparation of more than one meal at the same time. It is commonly done on the weekend, prepping lunches for the week. Once prepared and portioned, these can be refrigerated or even frozen and then reheated before eaten, but there is no reason meal prep needs to be restricted to lunches. You can meal prep breakfasts, dinners, and even snacks.
By preparing multiple meals at the same time, you can save a lot of preparation time for each meal later. For those with extra large freezers, you could try multiple meal prep recipes and then freeze the portioned meals to allow for a greater variety. Some people do not mind eating the exact same lunch or dinner during the week, but most people like a little variety.
How to Meal Prep Effectively?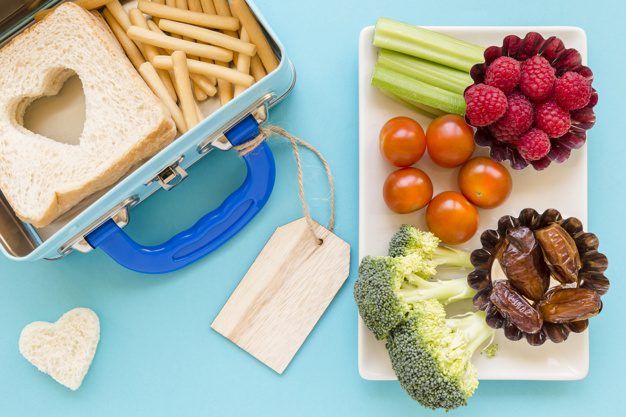 Image via Freepik
The best way to meal prep effectively is to plan for your meal prep recipes and decide which containers you plan to use to store the portioned meals. Most meal preppers set aside an afternoon or evening, usually on the weekend, to prepare their meal prep recipes.
Read these recipes carefully and budget your time accordingly. Many recipes call for cooked rice or other grains, so include the cooking time for those in your plans.
There are many choices when it comes to the containers used to store the individual portions of your meal prep recipes. Reusable plastic containers are one of the most common choices and there are several brands available on the market. Additionally, some foods such as sour cream come in plastic containers that can be washed and reused.
Plastic containers can be microwaved and cleaned though some of them have nooks and crannies that can be difficult to wash and dry. Some foods stain plastic or leave odors inside them that will not go away. If your lunch container smells like garlic, you will not want to store any food that does not go well with garlic.
Mason jars are another option for meal prep and are especially favored for salads. Made of glass with stainless steel lids, mason jars are easy to clean and will not absorb smells or stains from your food. Glass is also more environmentally sound than plastic. On the downside, glass can break and it is heavy.
For those most interested in the time-saving aspect of meal prep, investing in a slow cooker or electronic pressure cooker can make meal prep even easier. While none of the meal prep recipes before requires either of them, there is a multitude of meal prep recipes specifically for slow or pressure cookers.
4 Awesome Meal Prep Recipes
Here are four of the best meal prep recipes we could find. We encourage you to try one (or all four) and enjoy a delicious, home-cooked meal at your convenience.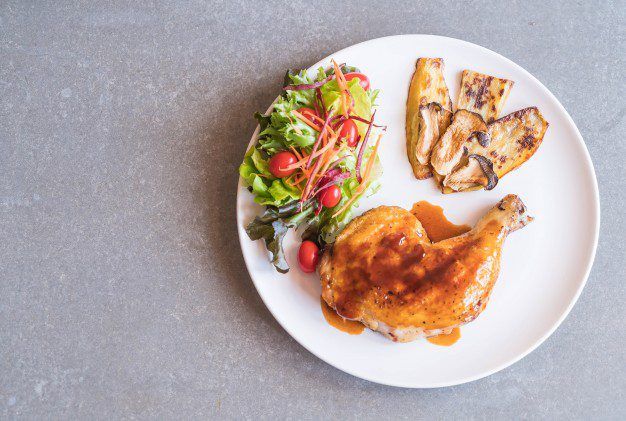 Image by topntp26 via Freepik
Ingredients
For the teriyaki glaze:
1/3 cup soy sauce
5 tablespoons rice wine vinegar
5 tablespoons honey
4 tablespoons water
1/2 tablespoon cornstarch
3 garlic cloves, minced
2 teaspoons sesame oil
1/2-inch section of fresh ginger, peeled and grated
For the chicken & vegetables:
1.5 pounds boneless, skinless chicken breasts or thighs sliced in half lengthwise
3 cups broccoli, cut into florets
1 cup carrots, sliced
1/4 cup edamame beans (optional)
1/4 cup pineapple chunks (optional)
Scallions and sesame seeds for garnish
Salt and freshly ground black pepper to taste
Instructions
For the sauce:
In a mixing bowl, whisk the soy sauce, rice wine vinegar, honey, water, cornstarch, minced garlic, sesame oil, and grated fresh ginger until combined
Place a medium saucepan over medium heat and add the combined sauce ingredients and bring to a simmer, stirring frequently.
Once the sauce has thickened and bubbles, remove from heat and set aside.
For the chicken and vegetables:
Preheat the oven to 400 degrees and line a rimmed baking sheet with foil or parchment paper.
Season the chicken breasts or thighs on both sides with salt and freshly ground black pepper and two teaspoons of the teriyaki glaze. Make sure to reserve half the glaze for later.
Add the chicken to the prepared lined baking sheet and bake for 10 minutes.
While the chicken cooks, add the vegetables to a large mixing bowl with the sesame oil and two tablespoons of the glaze. Season to taste with salt and freshly ground black pepper and toss to coat.
Remove chicken from the oven and add more of the glaze, flipping the chicken and glazing again.
Add the vegetables to the pan, arranging them around the chicken into a single layer and return to the oven for 20 minutes.
Check the chicken for doneness. If it requires more time, remove the vegetables from the pan and continue cooking the chicken until it reaches your desired doneness.
Slice chicken once cool and serve over rice if desired.
For meal prep, portion the chicken and vegetables and combine with cooked rice.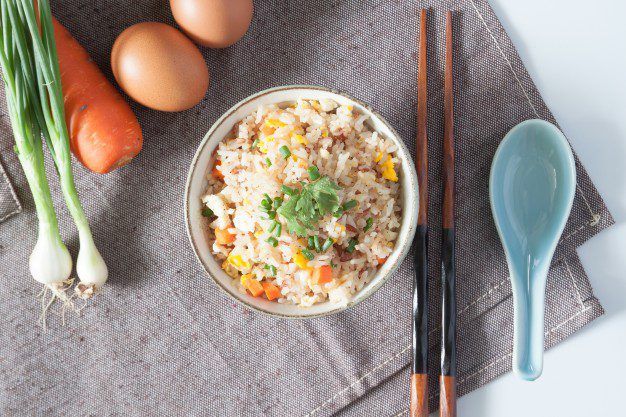 Image by schantalao via Freepik
Ingredients
4 cups cooked long grain rice
4 large eggs
3 cups broccoli florets
1 large yellow onion, chopped roughly
0.75 cup roasted red peppers, sliced
0.75 cup corn kernels, raw
2 tablespoons olive oil, divided
4 cloves garlic, minced
3 tablespoons soy sauce or tamari
1.5 tablespoons rice wine vinegar
Salt and freshly ground black pepper to taste
Instructions
In a large, heavy-bottomed skillet, heat one tablespoon of olive oil over high heat.
Beat and season the eggs with salt and freshly ground pepper to taste, adding them to the hot pan.
Scramble the eggs, constantly moving the pan and stirring.
Cook for about 30 seconds until they are cooked but still soft.
Remove them from the pan and set aside for later.
Return the pan to the heat and add a tablespoon of olive oil, reduce the heat to medium.
Add the chopped onions to the pan and cook for 2 minutes, or until they start to soften.
Add the minced garlic to the pan and continue cooking for 30 seconds until the garlic is fragrant.
Add the roasted red pepper, broccoli, and raw corn kernels to the pan.
Stir together to combine and cook for 2 minutes until the vegetables are warmed through.
Add the rice wine vinegar and deglaze the pan, scrapping anything that might have stuck to the pan while cooking.
Add the scrambled eggs and stir to break up the eggs and mix the ingredients.
Add the cooked long grain rice and soy sauce, stirring together to combine.
Cook for an additional three minutes or until the rice has warmed through.
Serve immediately or let cool and separate for meal prep.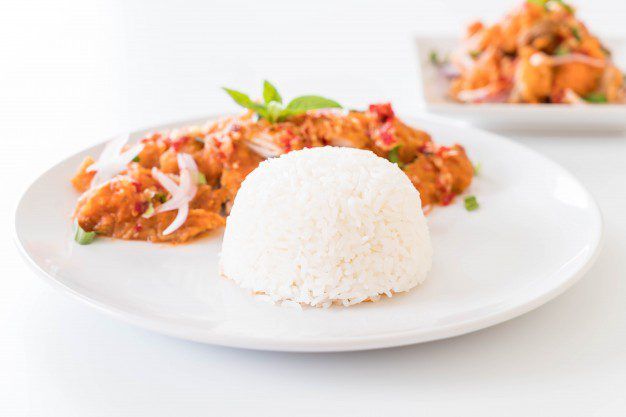 Image by topntp26 via Freepik
Ingredients
2 chicken breasts sliced in half lengthwise
2 cups cooked long grain white or brown rice
1 small onion, sliced thin
1 red pepper, sliced thin
1 poblano pepper, sliced thin
1 can of corn, drained
2 cans of black beans, rinsed and drained
1 tablespoon olive oil
1 tablespoon fajita seasoning
Additional toppings can include shredded jack or cheddar cheese, sour cream, salsa, avocado or almost anything else you might like.
Instructions
Sprinkle chicken, onions, and peppers with half of the fajita seasoning.
Preheat a skillet or frying pan to medium-high heat and add the olive oil.
Add the chicken, peppers, and onions to the skillet or frying pan and cook for 6-8 minutes, flipping the chicken halfway through.
Remove cooked chicken, peppers, and onions from the pan and set aside.
Return the pan to the heat and add the drained and rinsed black beans and the drained corn to the pan along with the remaining fajita seasoning.
Cook for 4 minutes, or until the black beans and corn have been warmed sufficiently.
Before assembling the bowls, slice the chicken to your desired thinness.
Assemble the bowls by portioning the rice into each bowl then topping with the chicken, peppers, and onions as well as the black bean and corn mixture. Add any additional topping as desired
4. Walnut, Radish, and Apple Mason Jar Salad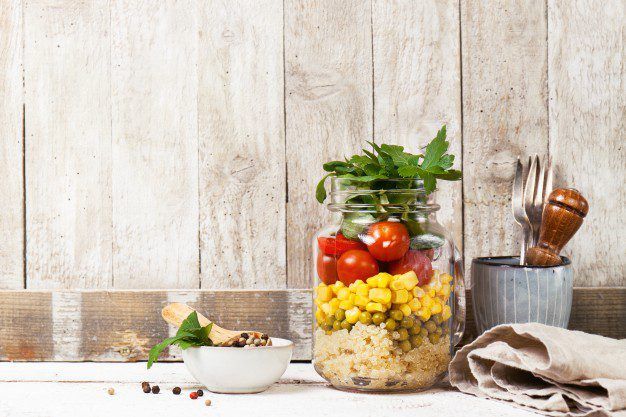 Image by valera_aska via Freepik
Ingredients
For the dressing
3 tablespoons almond butter
1 tablespoon rice wine vinegar
2 teaspoons toasted sesame oil
1 teaspoon maple syrup
Pinch salt
For the salad
3 cups mixed greens
1 stalk celery, diced
0.25 green apple, sliced thinly and tossed with lemon juice to prevent browning
0.33 cup walnuts
2 radishes, sliced thinly
Instructions
Combine almond butter, rice wine vinegar, toasted sesame oil, maple syrup, and salt into a tightly sealed container and shake until well combined.
Pour two tablespoons of dressing into a wide mouth mason jar. Layer the rest of the ingredients in the following order: apples, radishes, celery, and walnuts.
Stuff the jar with the greens and seal, refrigerating until ready to eat.
To eat, pour into a large bowl and toss to combine.
If dressing is too thick, add a tablespoon of warm water, seal the jar and shake to thin the dressing.
You may also like:
How to Make Restaurant-Style Alfredo Sauce at Home
Conclusion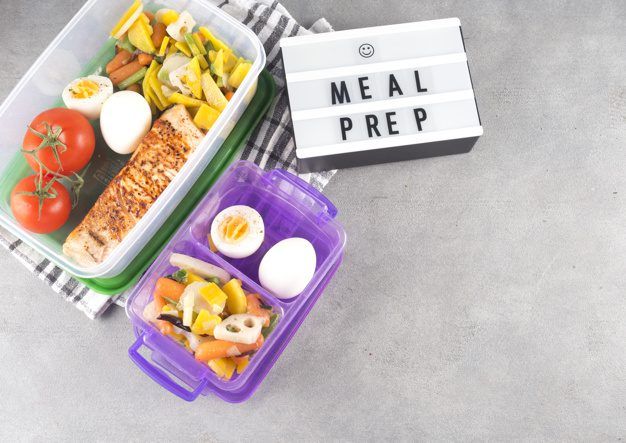 The above meal prep recipes should give you a great start prepping your meals. Enjoy the extra free time you gained from using them as well as the extra cash from not eating out as much as before.© Incomestorage