[et_pb_section admin_label="section"] [et_pb_row admin_label="row"] [et_pb_column type="4_4″][et_pb_text admin_label="Text"]
These no-bake, gluten-free Cinnamon S'mores Bars will satisfy your chocolate and marshmallow craving with no campfire required!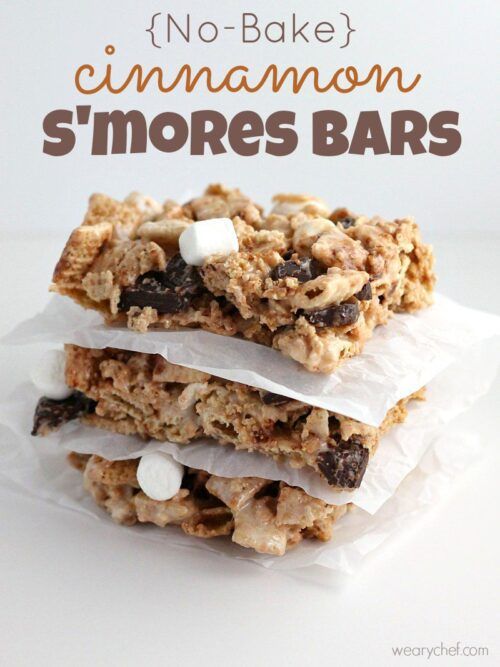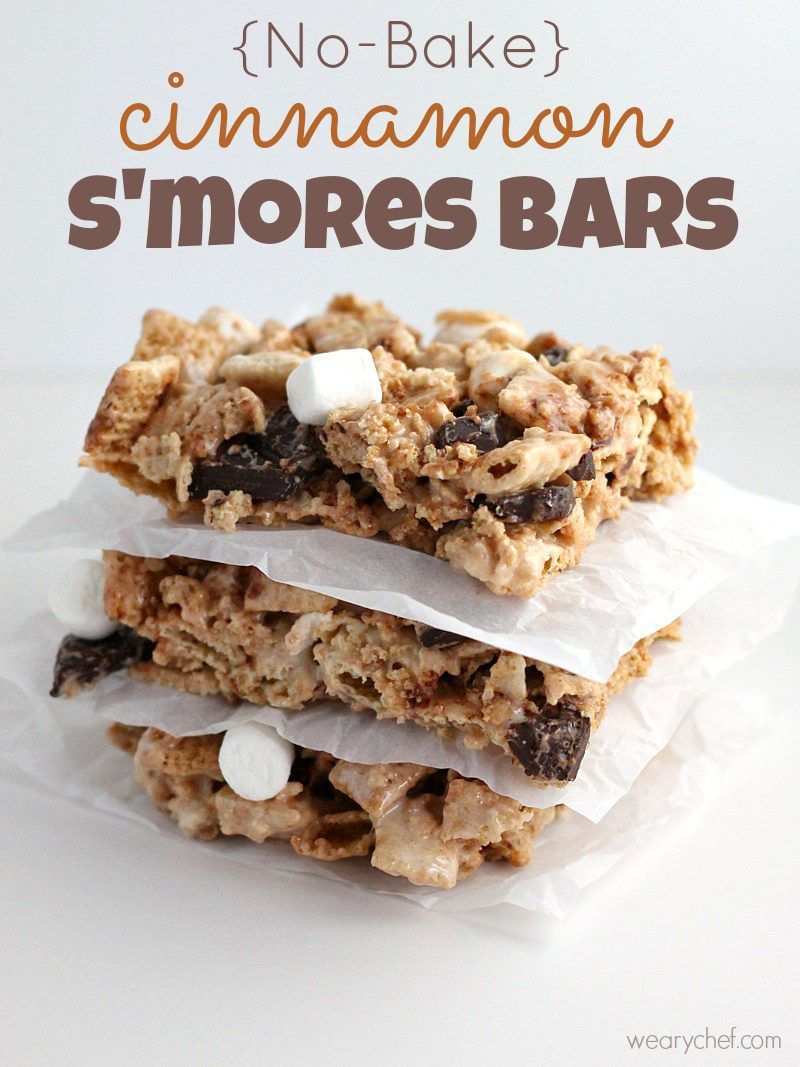 It's s'mores week, y'all! How do I know? Um, Lisa from Wine and Glue told me, so it must be true, right? Truth be told, I have no idea who started this weeklong celebration of chocolate and marshmallows. I could find National S'Mores Day in Wikipedia for August 10th, but it doesn't tell about where it came from. This whole thing raises a lot of questions for me. As it turns out, there are A LOT of National Food Days. National Doughnut Day? Check. National Hot Dog Day? Of course. National Tequila Day? My favorite. Those all sound somewhat reasonable, but check out some of these more outlandish food holidays:
March 13 – National Coconut Torte Day (Isn't that a tad specific?)
April 29 – National Shrimp Scampi Day (Couldn't just National Shrimp Day be good enough?)
May 4 – National Candied Orange Peel Day (Who even eats that?!)
October 14 – National Dessert Day (Isn't this every day?)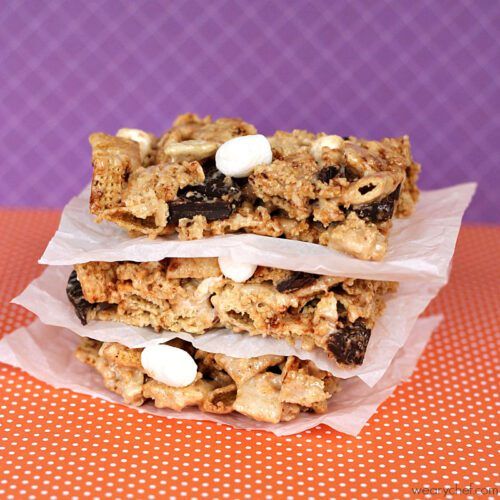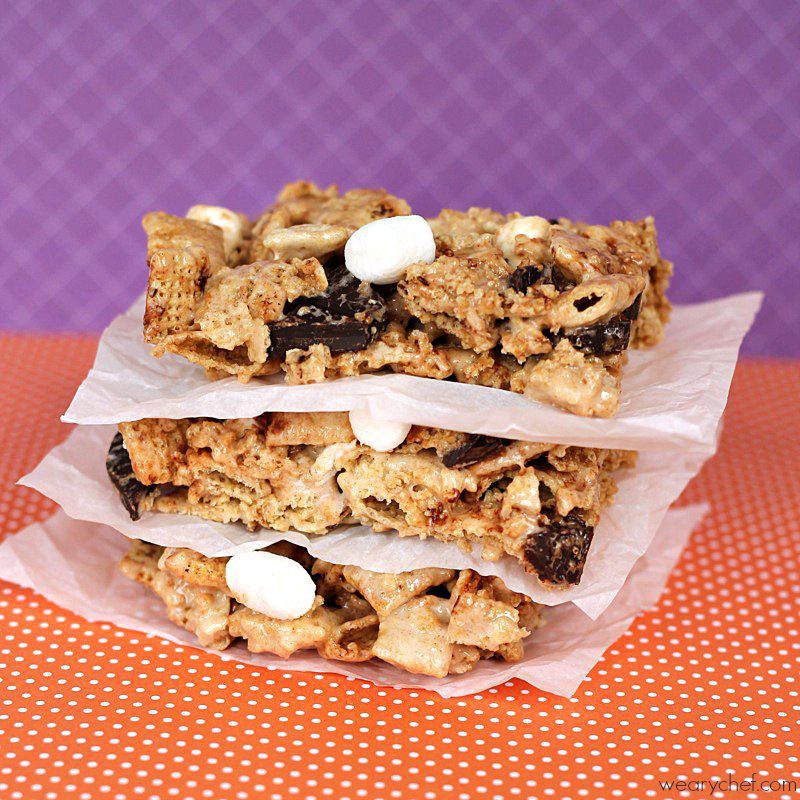 Can we all agree that food holidays are a little, well, silly? Now look at us. We can't even be happy to have just a single day for s'mores. It needs an entire week! I guess we will use this week to research recipes to make on August 10th. Which one will you make out of this awesome lineup? I recommend trying at least one a day to really thoroughly research your options.
My contribution to s'mores week is these Cinnamon S'mores Bars. Let's talk for a moment about what goes into s'mores: Chocolate, Marshmallows, and Graham Crackers. Graham crackers happen to be made of wheat, and wheat hates me now. Or, my body hates wheat depending on how you look at it. I like to blame the wheat instead of myself. The point is, graham crackers are out. I tried S'mores Graham Crispy Treats by Country Cleaver last year, and they were so, so good.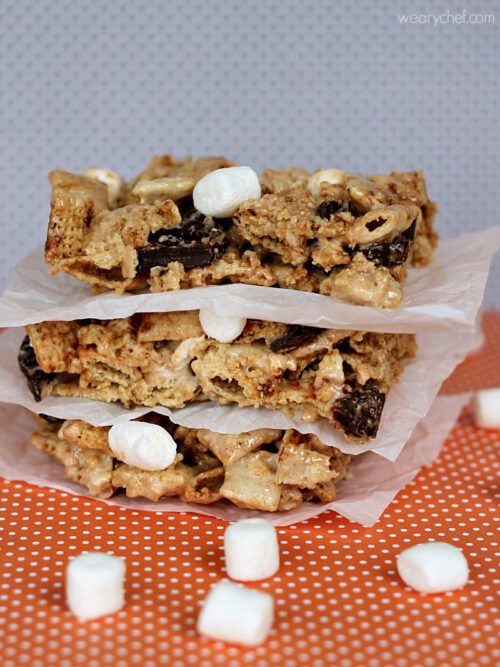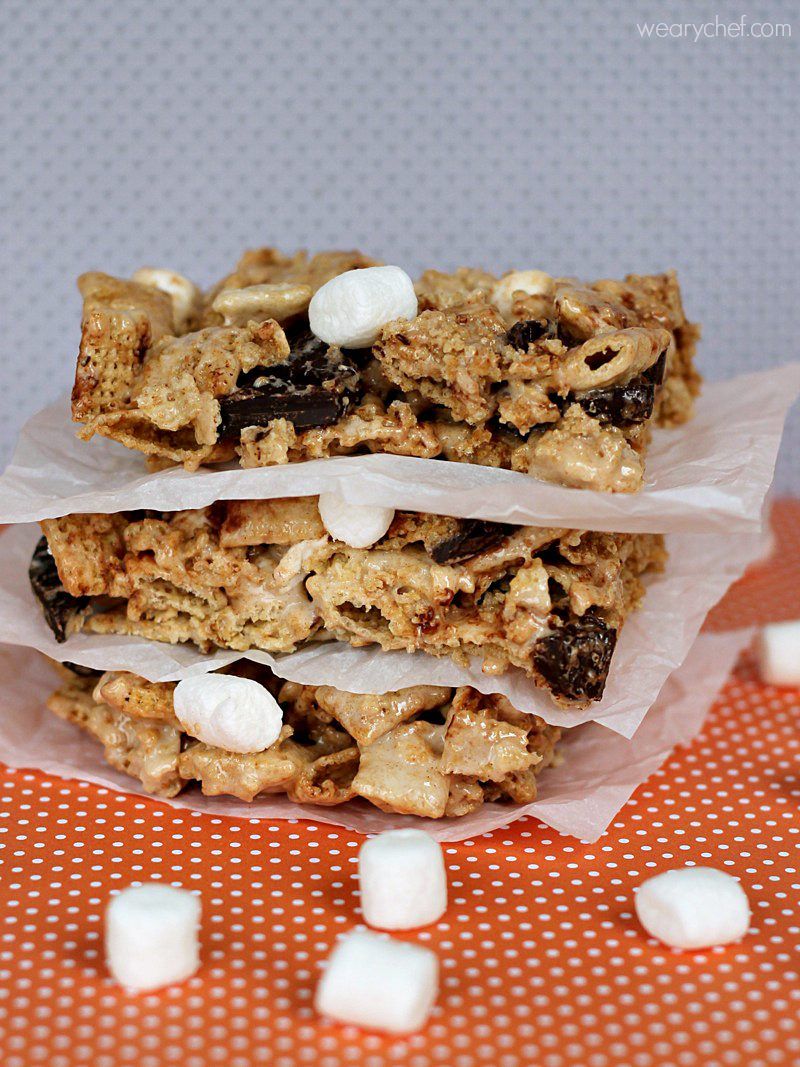 I wanted to take that recipe and make it with gluten-free cereal. Cinnamon sounded like a delicious addition to me, so I went with Cinnamon Chex. I also wanted to go with bigger chunks of dark chocolate since s'mores makes me think of big pieces of chocolate bar (and dark chocolate is just good). Finally, I stirred in extra mini marshmallows to make these cereal bars unmistakably s'mores.
I know it looks like the bars are falling apart in these photos, but it's just because I rushed the pictures because I couldn't wait to get s'mores bars in my mouth. I assure you that these bars hold together just like rice crispy treats. I also assure you that they are really, really good. Really. Don't wait for National S'mores Day to try out this tasty, easy, no-bake dessert!
Print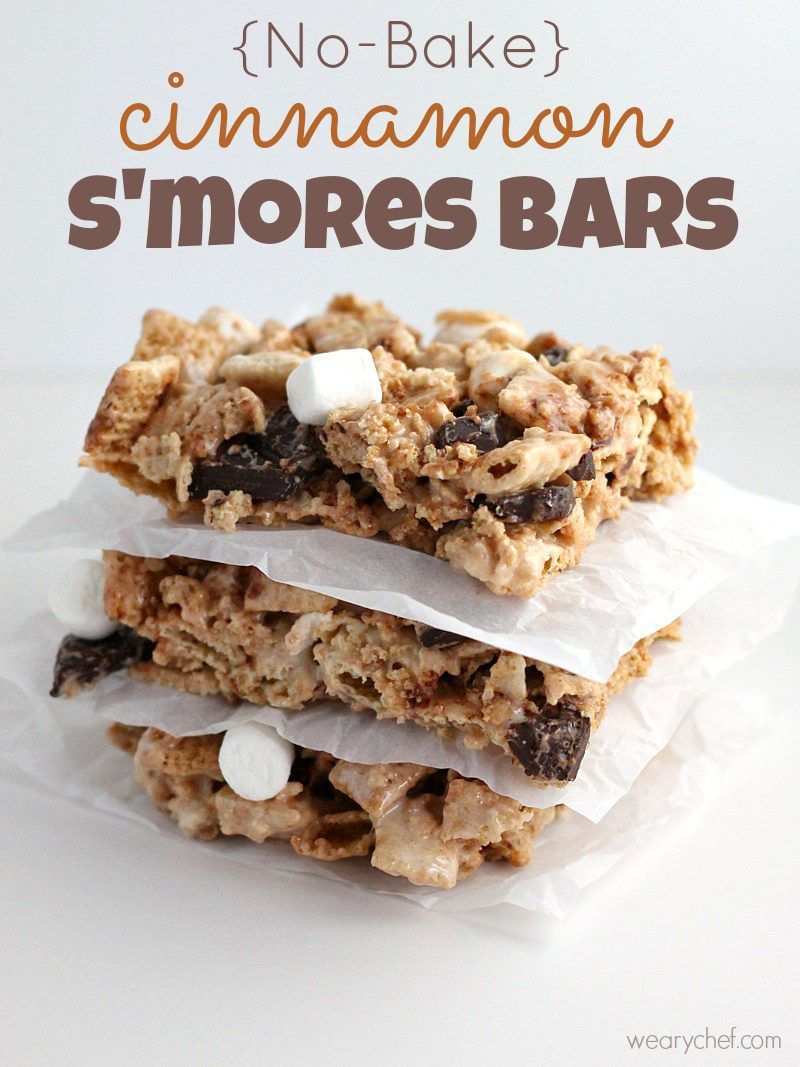 No-Bake Gluten-Free Cinnamon S'mores Bars and Food Holidays
This easy dessert will satisfy your s'mores craving with no campfire required!
Total Time:

10 minutes

Yield:

4

1

x
10 oz

. bag mini marshmallows

6 tbsp

. butter

1 tsp

. vanilla

12 oz

. box Cinnamon Chex cereal

4.5

oz

. dark chocolate bar chopped into 1/2″ pieces
Instructions
Spray a 9 x 13″ baking dish with cooking spray.
Measure ½ c. of the marshmallows and set aside. In a large microwave-safe bowl, add the remaining marshmallows and butter.
Microwave on high for about 90 seconds, stirring every 30 seconds, until marshmallows and butter and melted completely. Stir in vanilla.
Add cereal, and gently stir to coat.
Add chocolate and ½ c. marshmallows, and stir to incorporate.
Pour that s'mores goodness into the prepared baking dish. Use a piece of wax paper to press the cereal mixture evenly into the pan.
Allow to set at room temperature at least 30 minutes before cutting and serving.
Author:

Prep Time:

8

Cook Time:

2

Category:

Dessert
[/et_pb_text][/et_pb_column] [/et_pb_row] [/et_pb_section]