Whip up these quick and easy Sloppy Joe Potatoes for dinner, and enjoy your favorite sandwich as a neat and tidy meal!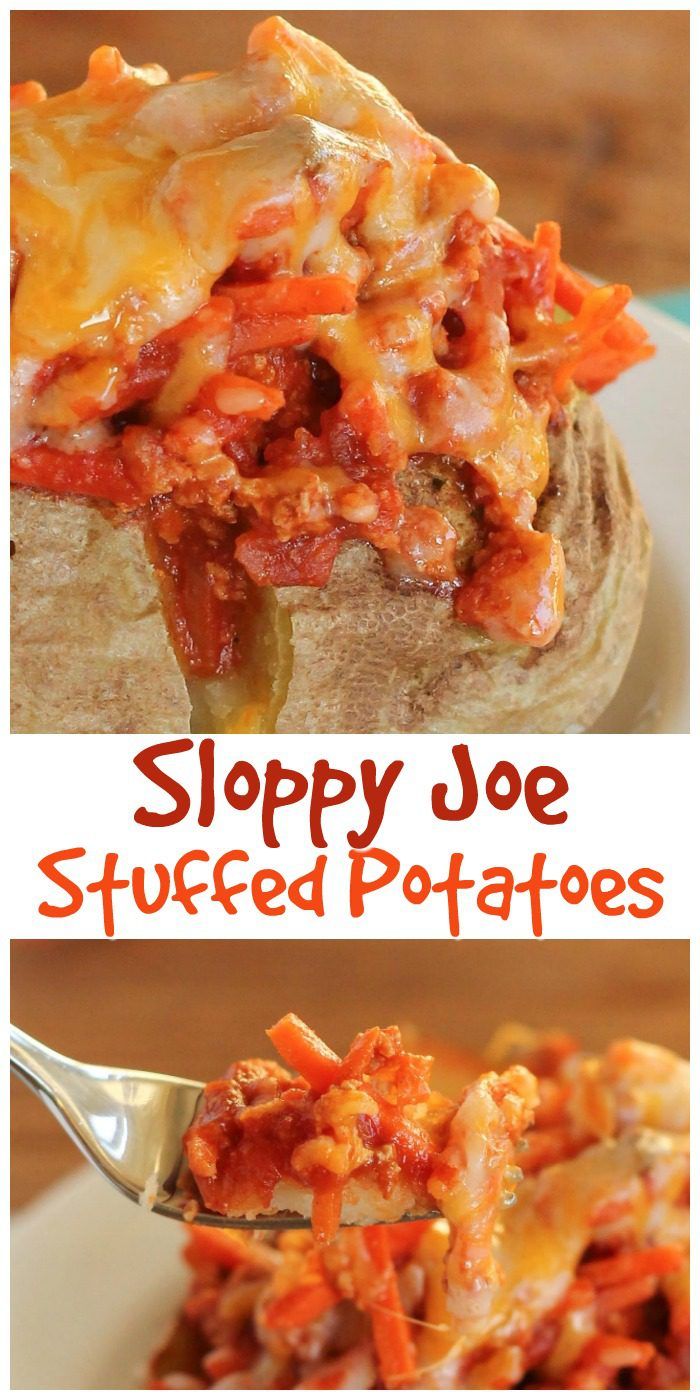 Are you OK with messes? Do you have a bunch of baby photos of your kids with spaghetti all over their faces and in their hair? Do you not bat an eye when your kids fingerpaint, play in the mud, or cover themselves with sand at the beach?
If you answered yes to these questions, you probably love sloppy joes. If you are me, you probably had to go wash your hands and wipe down a countertop real quick just to calm yourself down after reading about it.
I like paintbrushes, utensils, napkins, indoor play, and anything else that involves keeping messes at bay. I'm personally fine with eating a sloppy joe myself because I can very carefully try to contain all that sloppiness in the bun and quickly and precisely wipe up any drips that happen by accident. My kids, however, are sure to have all that delicious sloppy joe sauce running down their arms, on their faces, and in their laps. I can't even handle it.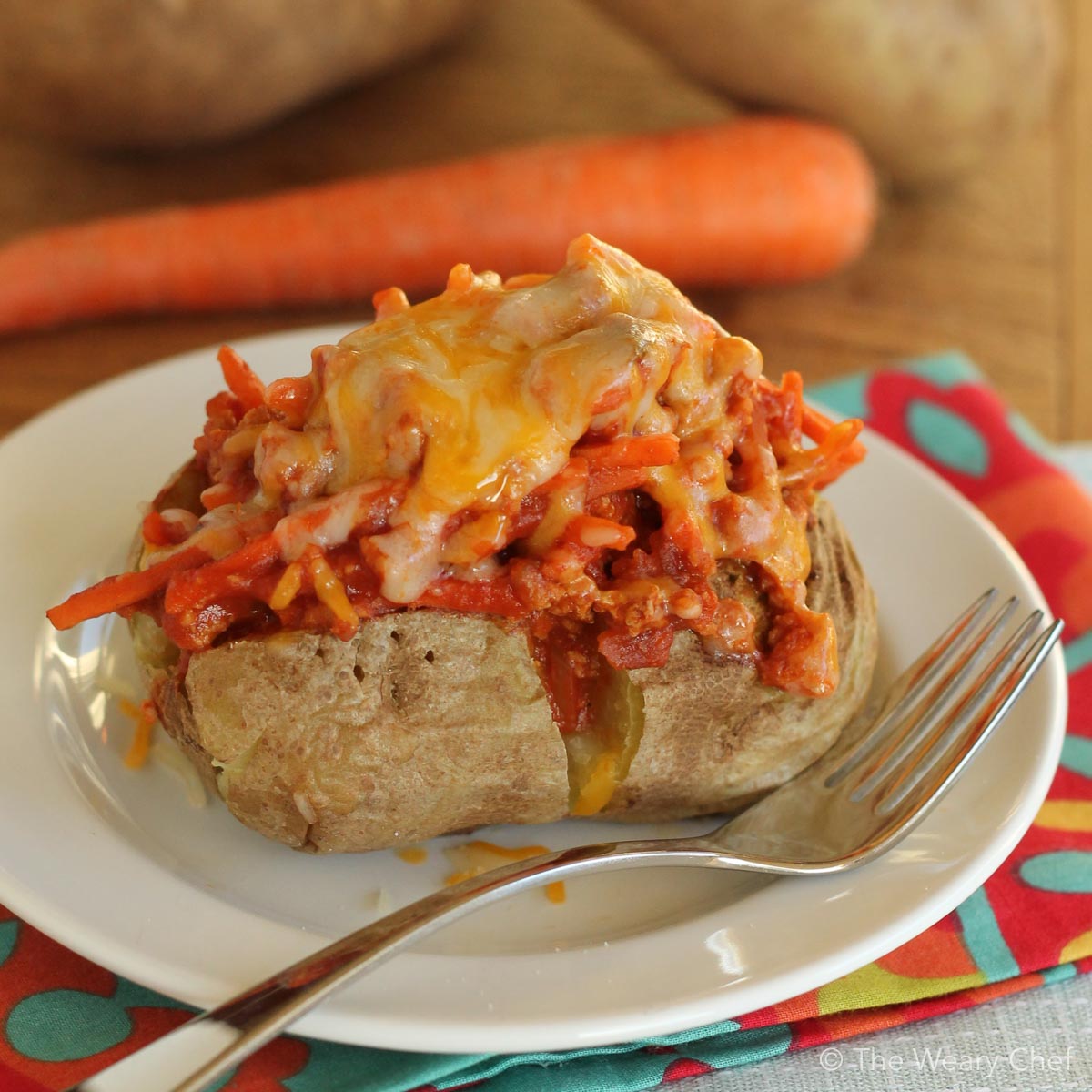 For a mess-a-phobe like me, turning sloppy joes into a fork-friendly dinner gives me a sigh of relief. Not only that, but these hearty sloppy joe baked potatoes are gluten free since there are no buns involved.
This is such a quick and easy dinner calling for only a handful of ingredients. Grab yourself a can of sloppy joe mix, some ground turkey or beef, shredded carrots or other veggies if you like, and a few potatoes. Just like that, dinner is done!
For those of you who don't have an anxiety disorder and can actually handle messes, the leftovers will be perfect stuffed inside a bun for lunch or dinner the next day! Just don't send me any photos of the dripping and smearing ;)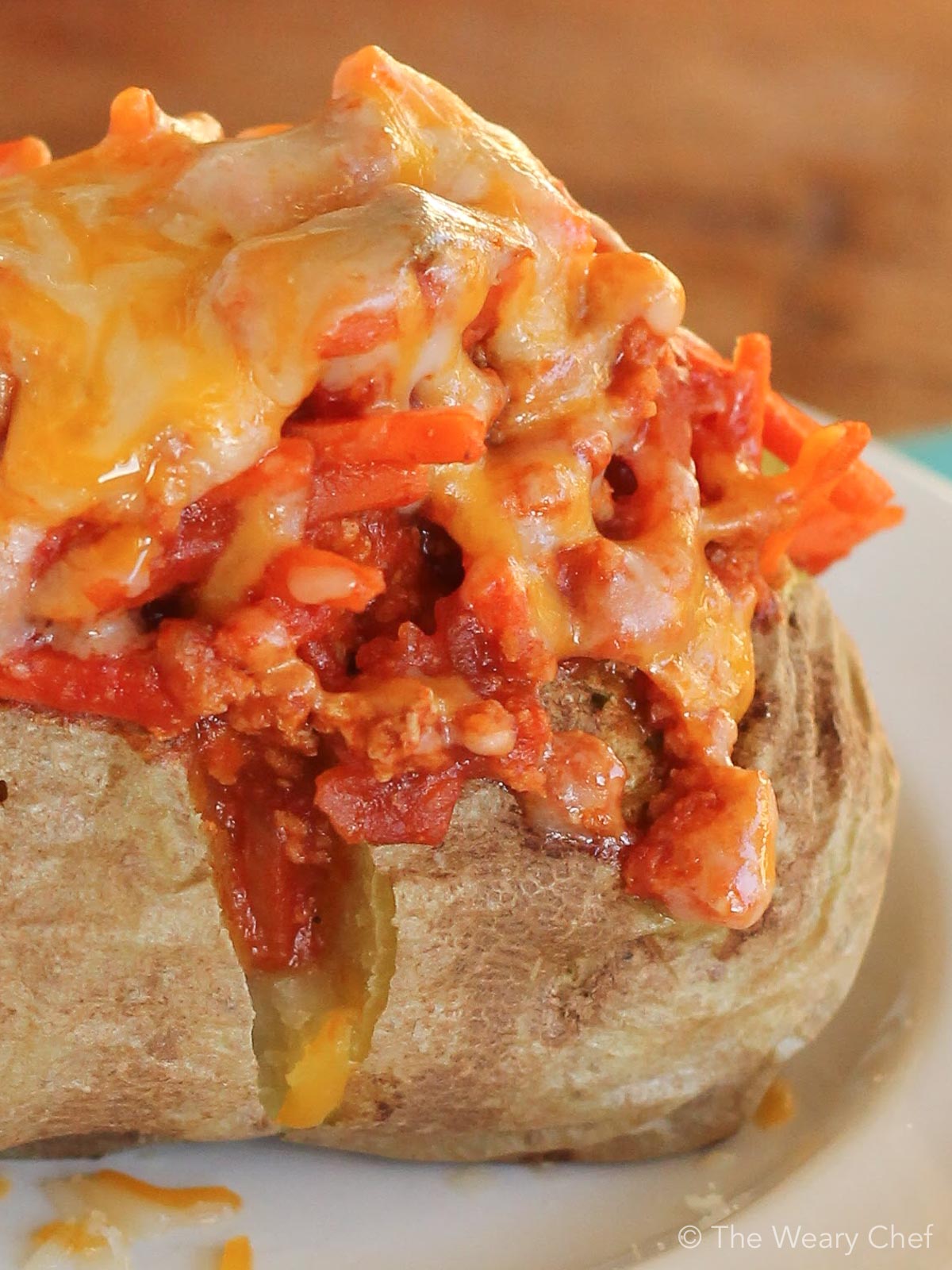 Print
Sloppy Joe Potatoes
Whip up a quick and easy Sloppy Joe Potato for dinner, and enjoy your favorite sandwich as a neat and tidy meal!
Total Time:

20 minutes

Yield:

4

1

x
Instructions
Scrub potatoes clean, prick with a fork, and place on a microwave-safe plate. Cover potatoes with a damp paper towel, and cook approximately 10 minutes, flipping potatoes once during cooking. (Microwave ovens vary, but potatoes should be cooked until a fork glides easily into the center of the potato.)

Meanwhile, spray a skillet with cooking spray and heat over medium-high heat. Add ground meat and carrots, and stir fry until meat is mostly cooked through and crumbled.

Stir in sloppy joe mix, reduce heat to medium, and simmer for a few minutes until heated through and sauce is thick.

Cut an "X" into each cooked potato, and squeeze ends to open them. Spoon a generous portion of seasoned meat over each potato, and sprinkle with cheese. Dig in!
Try this sloppy joe recipe too!