Get seven easy dinner ideas including Bacon Gouda Alfredo, Avocado Shrimp Quesadillas, Pizza Pasta Casserole, and lots more!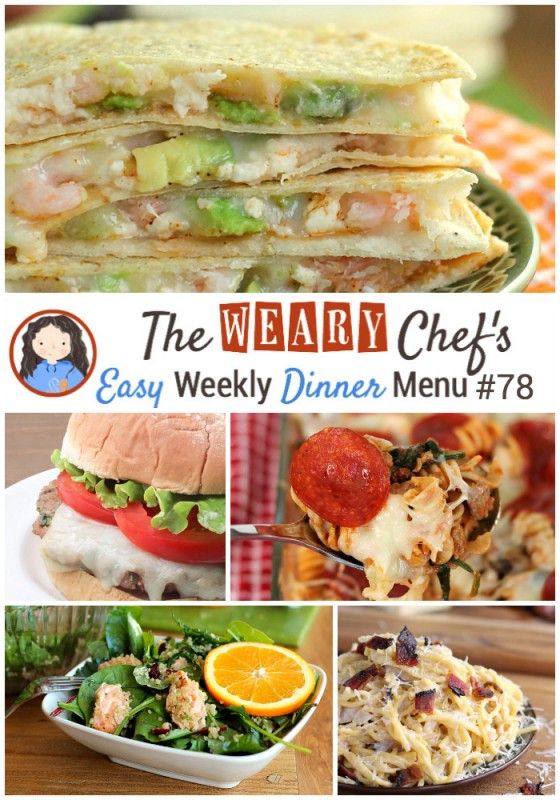 Test, test. Is this thing on? I don't want to make you feel bad or anything, but sometimes I wonder if anyone is actually reading these weekly menus because you guys are awfully quiet in the comment department. I would love to hear from you! Tell me what you want more or less of. Make requests. Say hello. Do you have a favorite recipe each week? Would your family go hungry without these menus, or are you just here to look at the pictures? Let me know what you think! If you are too shy to leave a comment, you can always email me. I truly love your feedback!
OK. Enough whining, let's get to the food! I have a lot of good stuff to share with you this week! Our guest recipe is from one of my best blogging friends, Jen of Yummy Healthy Easy. You can't go wrong with any of her recipes, but this week I tried her Turkey Pesto Burgers. I made them exactly as written, and they were so moist and flavorful! I'm happy to say that we have leftovers, so I get to eat them again tonight :) Let's see what other easy dinner ideas are on the menu for this week…
What's for dessert? You are sure to find a few new recipes to try in this huge chocolate and peanut butter roundup!