This week's menu features MY favorite dinner recipes from 2015. You should try Taco Pizza, Sweet Potato Chili, Ginger Chicken Soup, and more!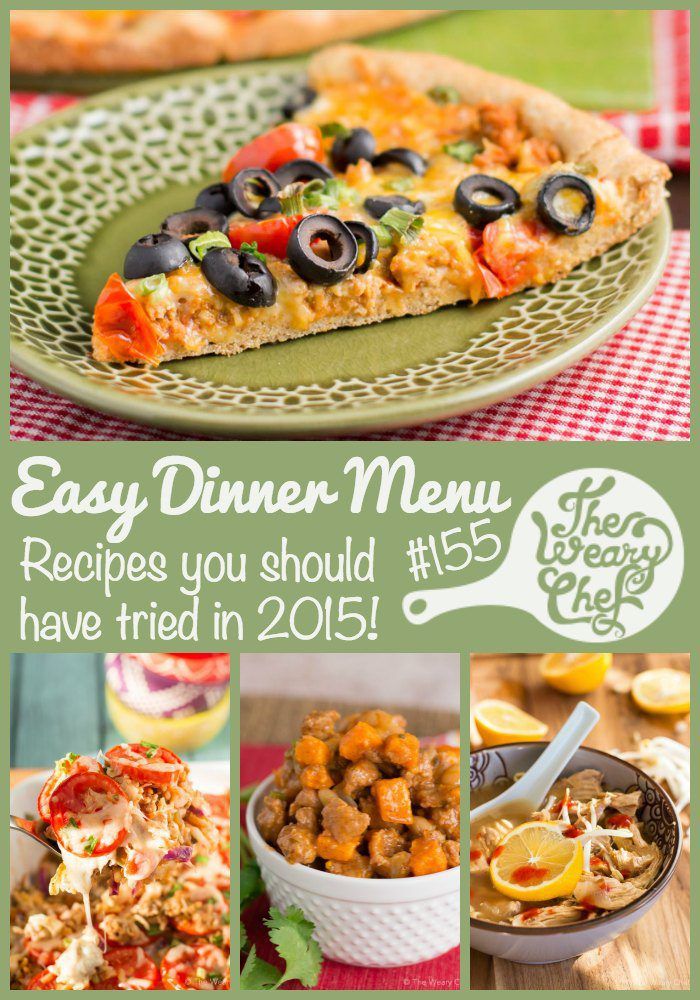 Hi! How was your Friday night? We spent ours at Matt's work party. It was circus themed, and they had a contortionist and clowns (like grown up clowns, not Bozo) going around the crowd performing. There were popcorn and cotton candy stations, a couple different food stations, open bar, and a way too loud DJ. Oh, and there were three different caricature artists and a photo booth. It was quite the party! We didn't stay very long though because it was so crowded. The line for drinks took a good 20-30 minutes. While we were waiting, I was thinking I have plenty of wine at home and make a pretty mean cocktail. We wished we were home in comfy clothes eating and drinking at our own house! That's what we do every night though, so it's good to get fancy at least once a year I guess. What are your office holiday parties like?
Last week I made a menu of the most popular recipes from 2015. While they were all perfectly good dinners that got the most traffic, they weren't necessarily my favorite recipes from last year. Often times my favorites don't hit it big on social media and get overlooked, so I want to share what I think were my best, easiest, tastiest new dinner recipes from last year. If you haven't tried these yet, I really hope you will! Click on the recipe name to see the full post. Let's go!