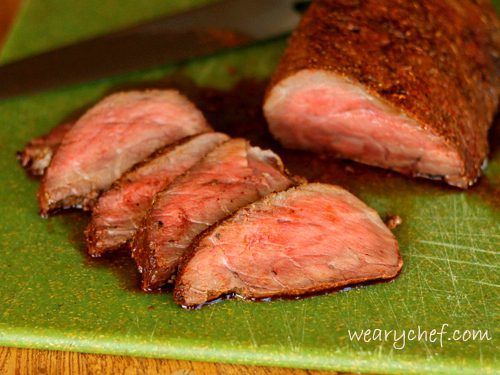 Everyone in our family loves steak, adults and kids alike.  We have been eating a few family dinners together lately instead of our usual style of the boys eating earlier, and one of those meals was this oven roast beef.  It turned out beautifully, but I would definitely recommend using a meat thermometer to pull it out at your favorite level of doneness.  I aimed for 145 degrees F, which was rare and juicy. Adjust your cooking time as needed depending on the size of your roast.
I have made this recipe with tri tip roast or London broil, both with excellent results. The London broil does dry out if cooked beyond medium-rare since it is so lean, so choose a more marbled cut if you aren't looking for a rare roast. This oven roast beef is perfect for a dinner party (or a large family) because everyone's meat is done at the same time, and you can work on preparing side dishes while it is baking. That makes life much easier than grilling or searing steaks!

Perfect Oven Roast Beef with Tri Tip or London Broil Cuts
This herb-rubbed, oven-baked tri tip roast makes serving steak to a crowd easy!
Ingredients:
1 tbsp. olive oil
2 tsp. paprika
1 tsp. Italian seasoning
½ tsp. kosher salt
½ tsp. garlic powder
½ tsp. onion powder
½ tsp. chili powder
¼ tsp. cayenne pepper, or to taste (optional)
1.5-pound tri tip roast
Instructions:
Preheat oven to 350 degrees F.
Combine olive oil and spices, and let roast sit at room temperature while oven heats.
Line baking sheet with aluminum foil. Rub all sides of roast with spice mixture, and bake in preheated oven for 40-60 minutes to desired level of doneness. (I like to cook to an internal temperature of 145 degrees for rare steak.)
Allow steak to rest for at least five minutes before cutting into ½" thick slices to serve.