This Chinese Green Beans with Ground Turkey recipe is my readers' favorite! This dinner is quick, flavorful, and healthy. I bet it will be a hit at your house! Just give it a try and you'll see why everyone just adores it!
I've mentioned that we live in San Francisco and are surrounded by AMAZING Asian cuisine, so we're pretty picky about our Chinese food. When I saw a couple of ground turkey stir fry recipes floating around, I thought turkey in an Asian-inspired dish seemed peculiar, but then I remembered having something similar that had ground pork instead. Pork, turkey: what's the difference, right?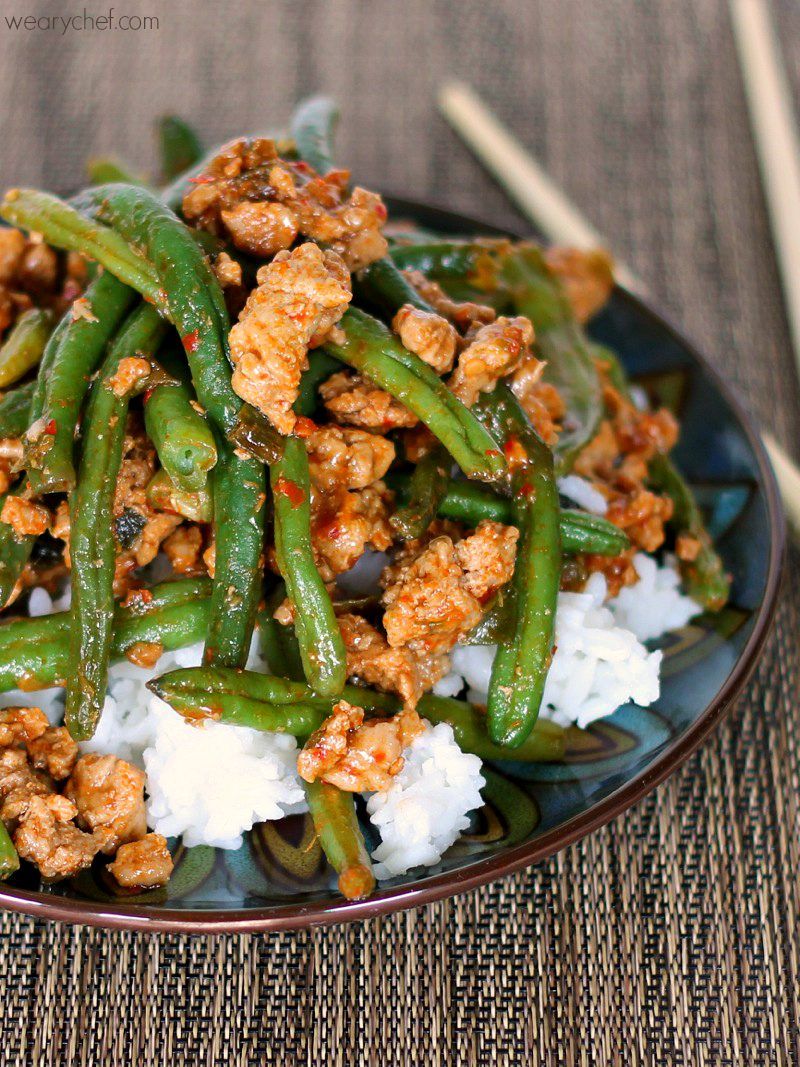 Benefits of this Asian Green Beans with Ground Turkey Recipe
I'm so glad I decided to try these Chinese Green Beans with Ground Turkey because this easy meal was delicious! To make it even better, it takes less than 30 minutes to prepare, making it one of my best recipes for busy days!
My oldest usually turns his nose up at green beans when I make them, but he makes an exception for Chinese green beans. I can't understand that kid. He won't eat gravy or spaghetti sauce, but he loves sushi and anything smothered in black bean sauce.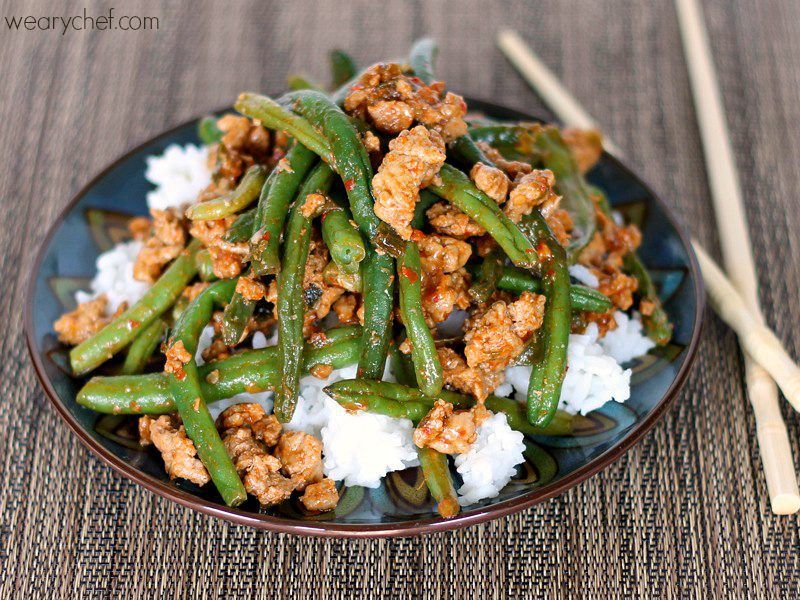 It's hard to say he's picky exactly. Maybe he just has discerning taste. He's certainly growing up in the right city. We didn't have a lot of Asian food options when I was a kid in Mississippi! Fortunately, I'm making up for it as an adult.
Chinese Green Beans with Turkey Recipe: TIPS
This green bean stir fry was born for weeknights.
If you can find Chinese long beans in your supermarket, those make the recipe taste even more authentic. If not, regular American green beans are perfect too. Just make sure they are fresh (not canned!) for a great result. If you don't have fresh available, try frozen instead.
Wash 1 pound of Chinese long beans, haricot verts, or green beans, drain thoroughly, and trim the tops and bottoms.
Also, do not forget to cut the green beans on the diagonal into slices approximately 2 inches long.
However, no matter how you make yours, I hope you love this Asian ground turkey recipe. Not to mention any questions you have I'll wait for them in the comments section below. Happy cooking!
Watch the how-to recipe video!
| | |
| --- | --- |
| | |
Start rice cooking in lightly salted water.

When rice is about 15 minutes from done, heat large skillet over high heat. Add sesame oil, and sauté green onions and garlic for about 2 minutes. Stir in ground turkey and sauté 3-5 minutes, until meat is mostly cooked. Crumble meat as much as possible.

Stir in chili garlic sauce, hoisin sauce, and ginger. Add green beans and soy sauce, and stir to coat. Continue cooking over high heat for 7-9 minutes longer, stirring frequently, until beans are slightly tender.

Stir in rice vinegar, and cook one minute longer. Serve over cooked rice.
Chinese Green Beans: NUTRITIONAL VALUES & HEALTH BENEFITS
Green beans, string beans, or snap beans are a rich source of vitamins A, C, and K, and of folic acid and fiber. They have similar nutritional benefits to snap peas and okra.
Not to mention that many studies have suggested that including more plant foods, such as green beans, in the diet decreases the risk of obesity, diabetes, heart disease, and overall mortality.
However, consumption of fruit and vegetables also promotes a healthy complexion, increased energy, and overall lower weight.
Also, for women of child-bearing age, consuming more iron from plant sources such as spinach, beans, pumpkin, and green beans appears to promote fertility, according to Harvard Medical School.
According to the United States Department of Agriculture (USDA) National Nutrient Database, one standard cup of canned snap beans (about 150 grams) contains in term of nutrients:
Enjoy Your Chinese Dinner!
Now that you know all the benefits of Chinese green beans and the steps of how to rock this Chinese Green Beans with Ground Turkey Recipe, it's your turn to share. So, go to the comments section and tell us your experience with this veggie: Do your family love it or hate it? Is there any way you can cook these beans for your little ones? What do you think about its taste and the ways you can cook it?
Also, I will be super grateful if you'll find the time to share a little of your experience with my Chinese green beans recipe: Was it easy to make for you? What do you love about it and what will you change? Were you in the position to improvise? What did you do differently?
Last but not least, if you love this recipe, I think you'll also be a fan of these two: