This week's dinner menu features Tacos with Cucumber Salsa, Greek Salad, Caprese Quinoa Casserole, and lots more! If you have a bumper crop of summer veggies, you have come to the right place for cucumber recipes!
Hi! Is it really August? Two months ago I wondered how we would entertain ourselves all summer, and now we're only two weeks away from school starting! Actually, my little one goes back to his part-time preschool next week. I have mixed feelings about that. Mostly the feeling is, "Hallelujah! I can get stuff done again!" There is also a sad feeling in there though because I will miss him. Judging by the amount of crying and arguing lately, I think we may have all spent a little too much time together the past few weeks. I think we'll all benefit from some absence making our hearts grown fonder.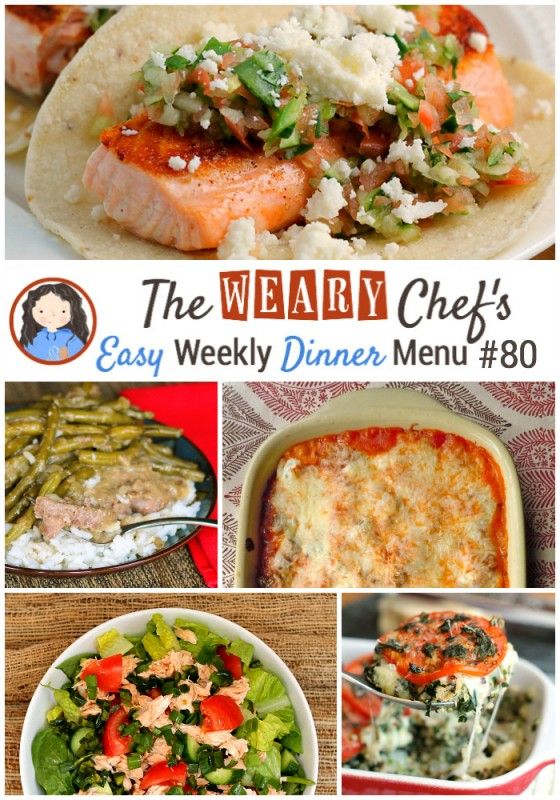 Not all of this week's easy dinner recipes feature cucumber, but there are a few good ones in there. One decidedly not cucumber dish is this week's guest recipe from Maebells. We just had this rich, comforting dish for dinner last night, and it was unbelievably good! I made it pretty much as written except for using chicken sausage and reduced fat cream cheese and sour cream to lighten it up a bit. I also skipped the roasted garlic to save time, but I'm sure it would be even more amazing had I added it. This might be more of a Sunday dinner kind of meal since it has to bake 45 minutes, but it really didn't take too long to put together. You should give it a try! Let's get to the recipes:
If you're wondering what to have for breakfast, don't miss these 10 French Toast Recipes I shared earlier this week!