Looking for a quick and easy meal? Learn how you can cook amazingly delicious recipes using canned chicken. This Pantry Enchilada Chicken Skillet Dinner is super easy to make and also budget-friendly!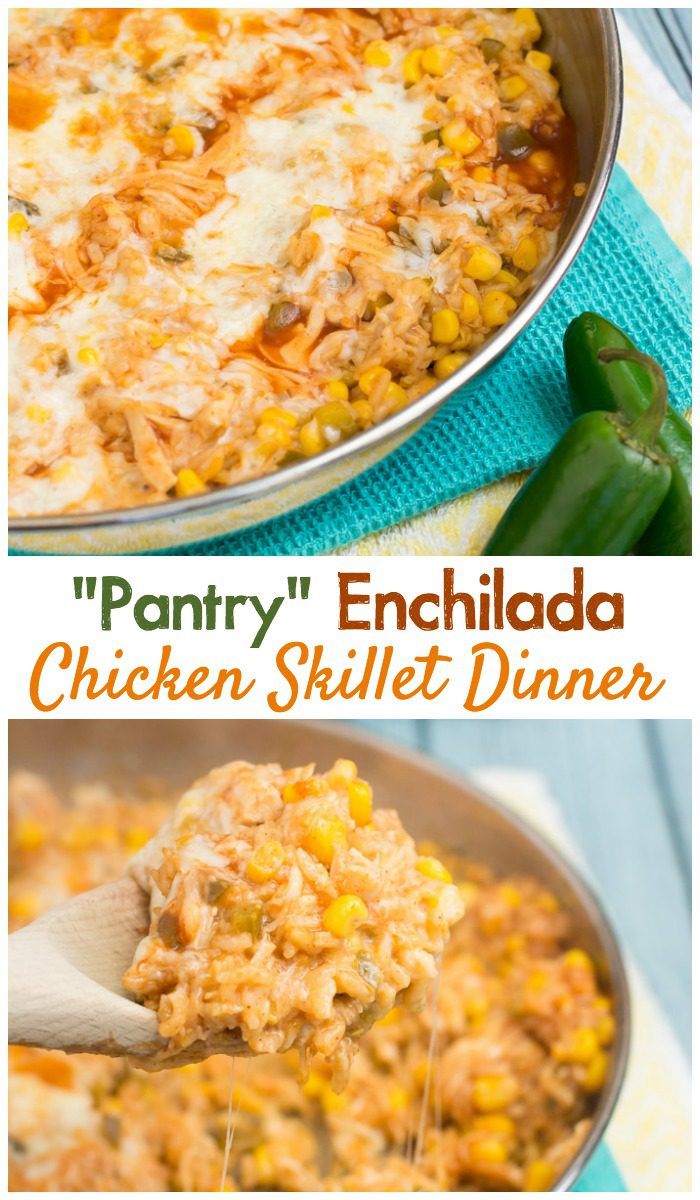 Easy Dinner with Canned Chicken
Don't you love pantry dinners? You know the ones. Those dinners you can make on the fly when you haven't had a chance to go to the store, and your fridge is bare. My pantry is always packed full of canned goods like chicken broth, diced tomatoes, tuna, a few types of beans, and corn just to name a few. With those "cantry" staples, I can always figure out something to whip up for dinner. It's the same situation when it comes to this delicious, spicy enchilada with the canned chicken recipe!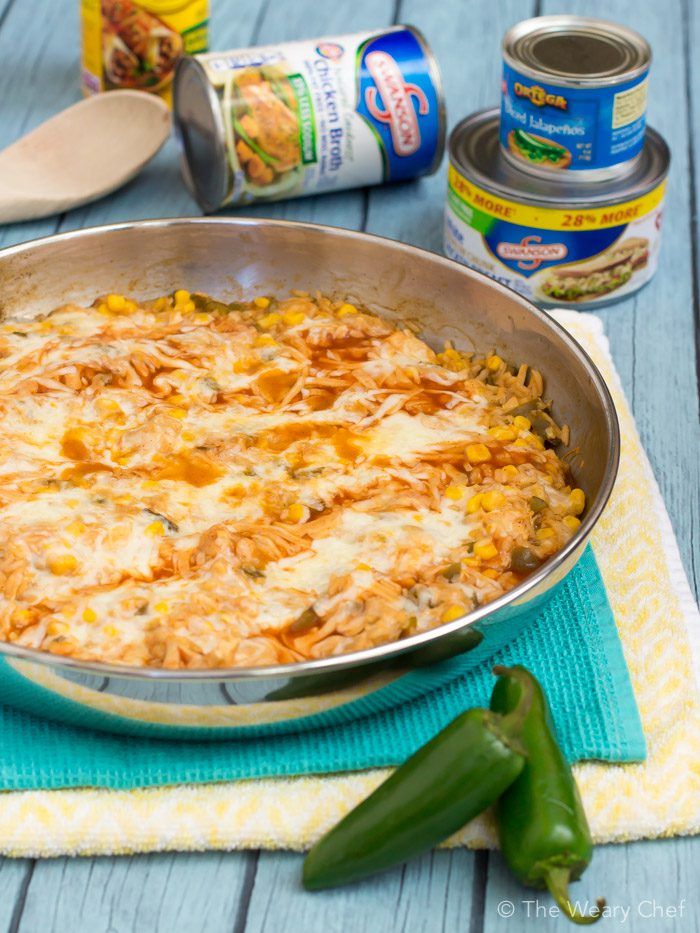 Next time you're at the grocery store, grab a couple of cans of everything you need for this chicken skillet recipe to keep on hand for busy days. (If you're like me, pretty much every day is a busy day!) This chicken enchilada skillet is so good, and no one will guess that you didn't slave away in the kitchen to make it.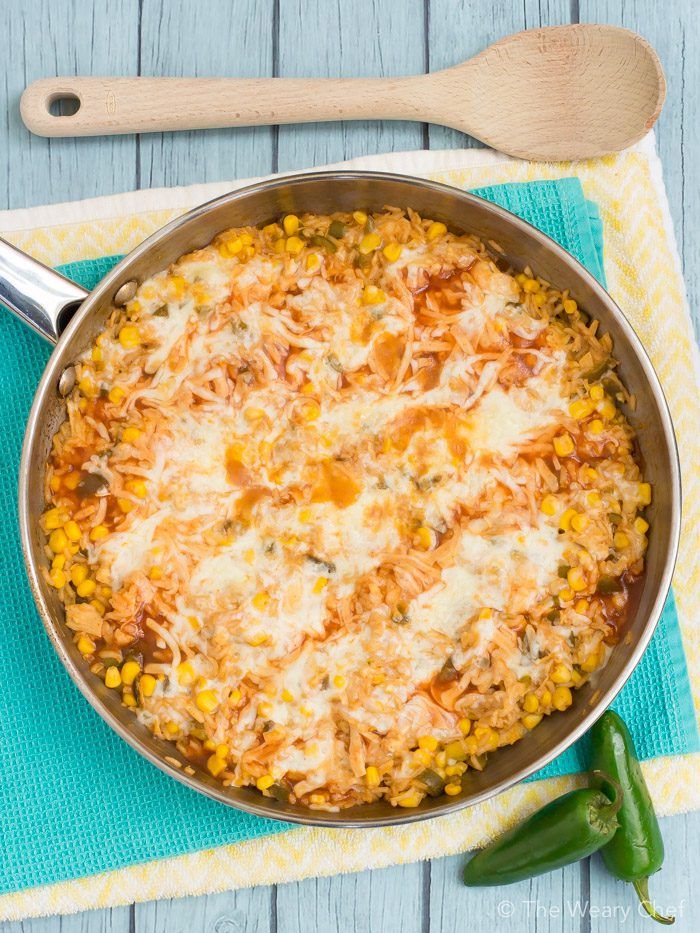 How To Make Chicken Enchilada in 20 Minutes
Before I get to the recipe, I should warn you that it is very spicy with the jalapeños. That's just right for me but not so much for kids. If you want to make it mild, just use diced green chiles instead of jalapeños, and be sure to use mild enchilada sauce. Now, let's get this Chicken Enchilada started!
| | |
| --- | --- |
| | |
Bring chicken broth and chili powder to a simmer in a 12" skillet with a lid over medium heat. Stir in rice, reduce heat to low, and cover.

Cook rice approximately 15 minutes, stirring occasionally, until most of liquid is absorbed. Stir in corn, chicken, jalapenos, and about half the enchilada sauce. Replace lid, return heat to medium, and cook for approximately five minutes longer or until heated through.

Stir mixture well, and sprinkle cheese over the top. Drizzle desired amount of remaining enchilada sauce over the cheese (you don't have to use the whole can), replace lid once more, and heat a few more minutes until cheese is melted.
For a mild dish, be sure to choose mild enchilada sauce, and substitute diced green chiles for the jalapenos.
You may optionally place cheese-covered skillet under a hot broiler to get the cheese brown and bubbly, but the stovetop works just fine.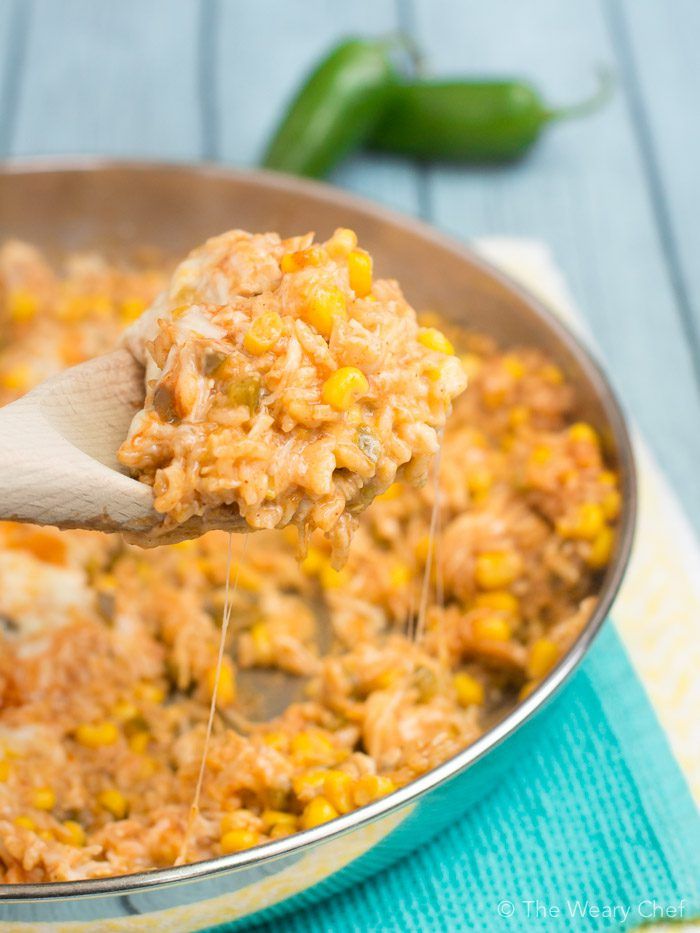 Enjoy Your Mexican Dinner!
Finally, it's your time to share your experience with this recipe and all your thoughts on it. So, tell me everything in the comments section: What do you think about the Chicken Enchilada Skillet? Did you find it hard to find your best market canned chicken? Where did you find it? Did your kids enjoy this dish? Additionally, did you go for the main recipe or did you improvise? If so, what did you add and what was your final result?
Also, please, do not hesitate to ask any further questions on this topic in the comments too. I will make sure to answer you as soon as possible! Last but not least, here are a few other dinners that put canned ingredients to good use!