This Teriyaki Tilapia Casserole is a weeknight dinner the whole family will love! Thanks so much to Chicken of the Sea for sponsoring today's easy recipe.
When you tell your family it's tuna casserole night, do you usually get cheers and high fives? Probably not. There is absolutely nothing wrong with tuna casserole, but I don't think it has the reputation of being the most exciting meal. Today I'm going to show you a whole new spin on this classic idea that is going to bring some fun to your dinner table. Check out this Teriyaki Tilapia Casserole!!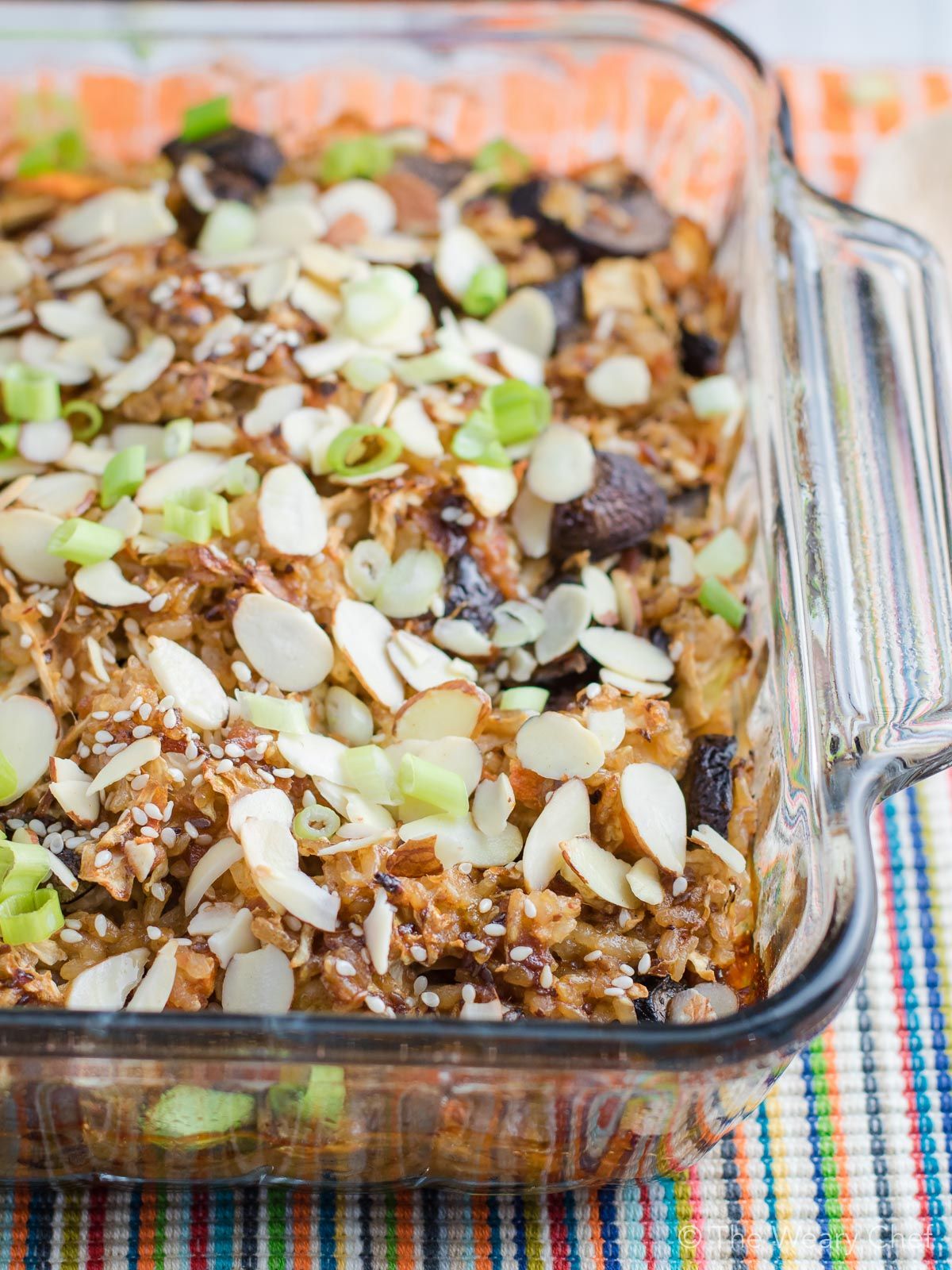 I've told you before (and I'll tell you again) that Chicken of the Sea has all sorts of seasoned tilapia and salmon pouches nowadays. I'm talking marinara, Sriracha, yellow curry, and more. Today I'm going to show you how to turn their Tilapia Fillets in Teriyaki Sesame Sauce into a dinner your family will flip for. Better yet, it's ready in about a half hour, which is perfect for busy weeknights!
Do you know how I get this recipe ready in a half hour? Frozen rice! I flippin' love frozen brown rice. It's real, cooked rice that you can steam in the microwave in three minutes. How else can you get perfectly cooked brown rice in three minutes?? Do you know how I cut calories in this recipe? Cabbage! The base is about 50/50 rice and coleslaw mix. Now, this isn't my first time at the coleslaw mix rodeo. You may remember such hits as Taco Salad Casserole and Chicken Coleslaw Stir Fry. I absolutely love stirring in shredded cabbage with my recipes because it adds crunch and vitamins with almost no calories. You can't beat that!!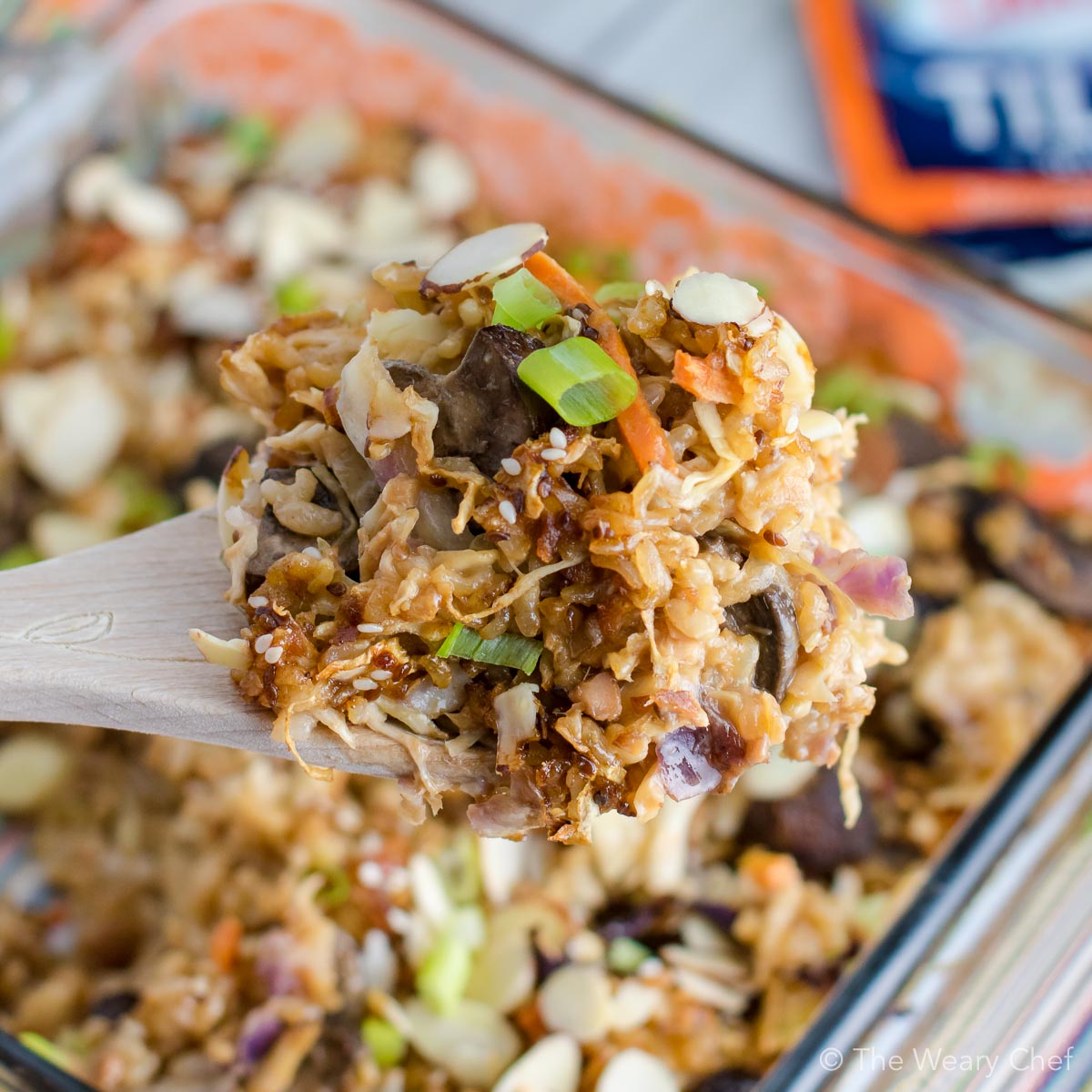 Before you say, "Um, Andi, you put cream in a teriyaki recipe…" just hear me out for a minute. Quite often, casserole recipes call for cream of XX soup, right? Those soups add richness and also help hold everything together, but I was looking for a more wholesome ingredient to include than canned soup. I promise it doesn't taste like you put milk in your teriyaki. It just adds a wonderfully velvety texture that I know you'll enjoy. Also, I had just bought whipping cream to make Pumpkin Rice earlier in the week, and I wanted to use it in another recipe…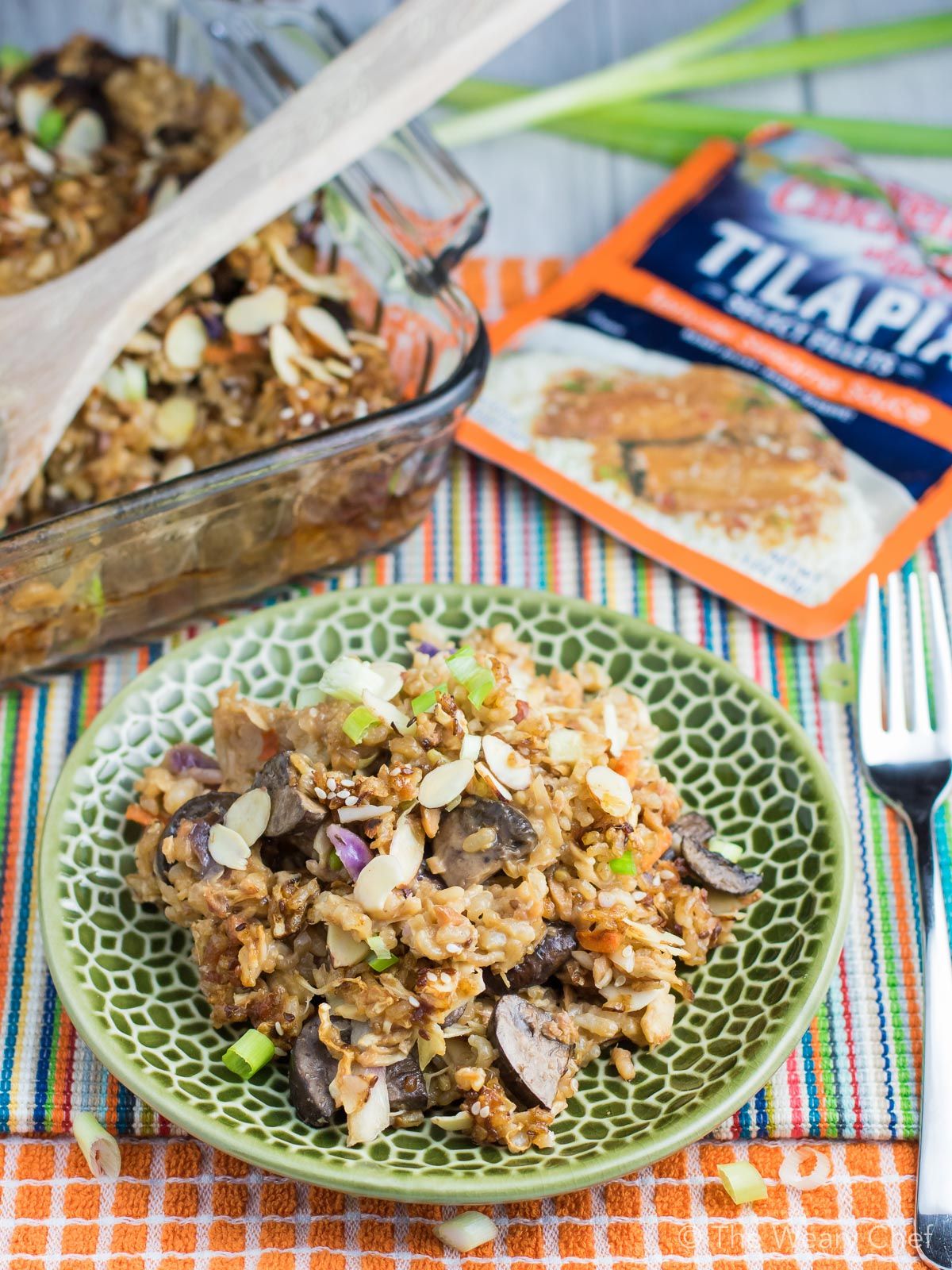 If you find yourself in the unfortunate position of not being able to find Tilapia Fillets in Teriyaki Sesame Sauce at your local store, never fear! You can buy unseasoned pouches of Chicken of the Sea tuna or salmon, and just increase the amount of teriyaki sauce you stir into the casserole. (I made a note about it in the recipe.) I hope you can find the teriyaki flavor though, especially because I have a coupon for you to get a free pouch! Just click right here for your VIP coupon. (You have to enter your email address, but that's just because the offer is one per person. Chicken of the Sea would never share your address.) Now let's get to the casserole recipe!
Print
Teriyaki Tilapia Casserole
This tasty dinner can be made in about a half hour thanks to some recipe shortcuts. Great for busy weeknights!
Total Time:

35 minutes

Yield:

3

1

x
Instructions
Preheat oven to 375 degrees F. Spray an 8″ square baking dish with cooking spray.

Stir together rice, cabbage, mushrooms, tilapia, half and half, and 1/3 cup teriyaki sauce.

Spread mixture evenly into prepared baking dish. Bake uncovered in preheated oven for 15 minutes.

Carefully remove casserole from oven, and stir rice mixture together. Drizzle remaining teriyaki sauce on top. Sprinkle with sesame seeds, almonds, and green onions.

Return casserole to the oven and bake an additional 15 minutes or until casserole is hot and bubbly and almonds are lightly browned. Serve immediately.
Notes
I use steam-in-bag frozen rice in this recipe, which I cook according to the package instructions. You could also use leftover rice or cook rice just for this dish.
If you can't find the seasoned tilapia, use pouches of Chicken of the Sea salmon or tuna, and stir in 1/2 cup teriyaki sauce plus more to drizzle on top.
Author:

Prep Time:

5

Cook Time:

30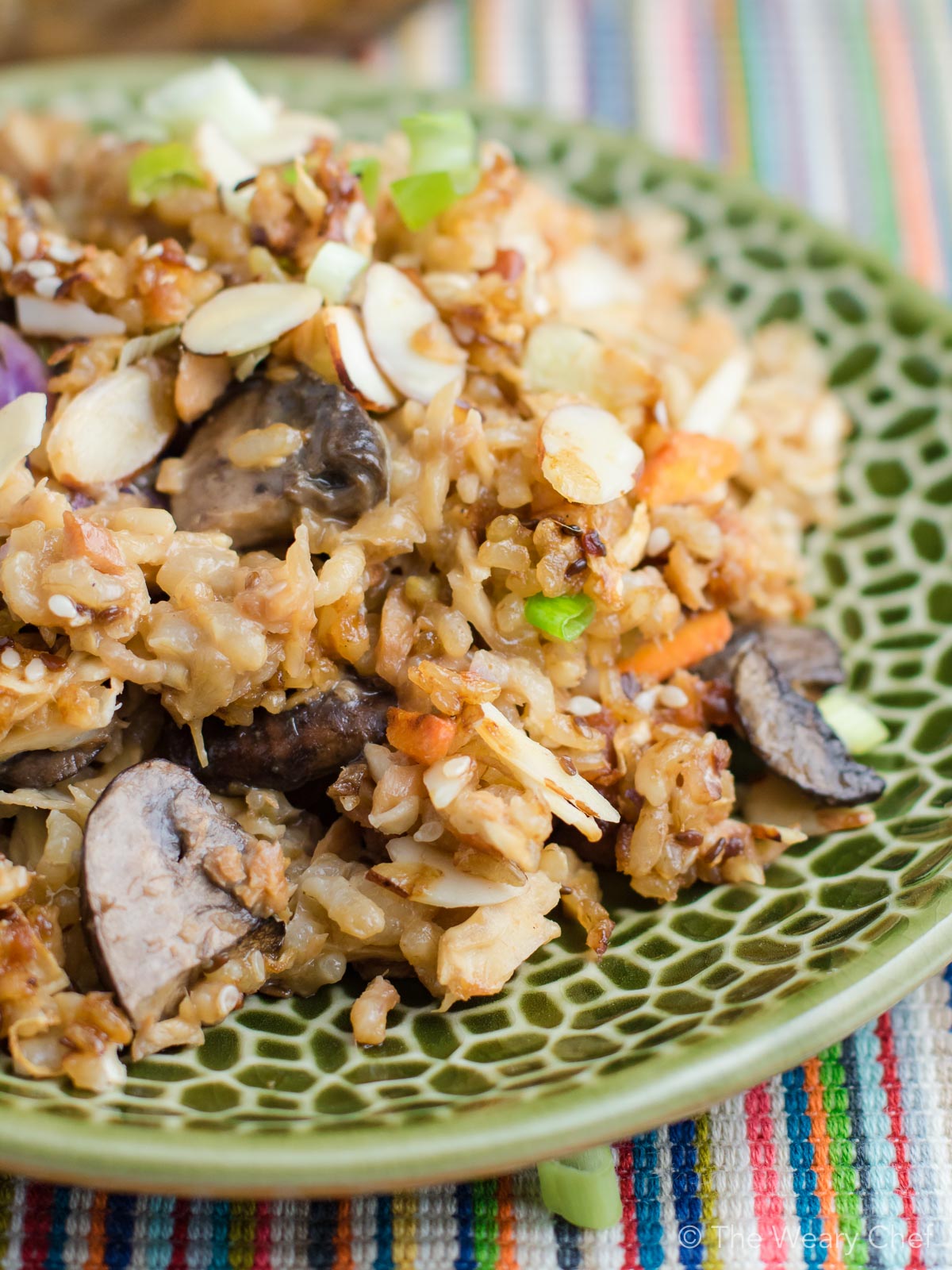 Want to know what to do with the rest of the teriyaki sauce? Try one of these recipes!
Thank you again to Chicken of the Sea for sponsoring this easy dinner recipe!