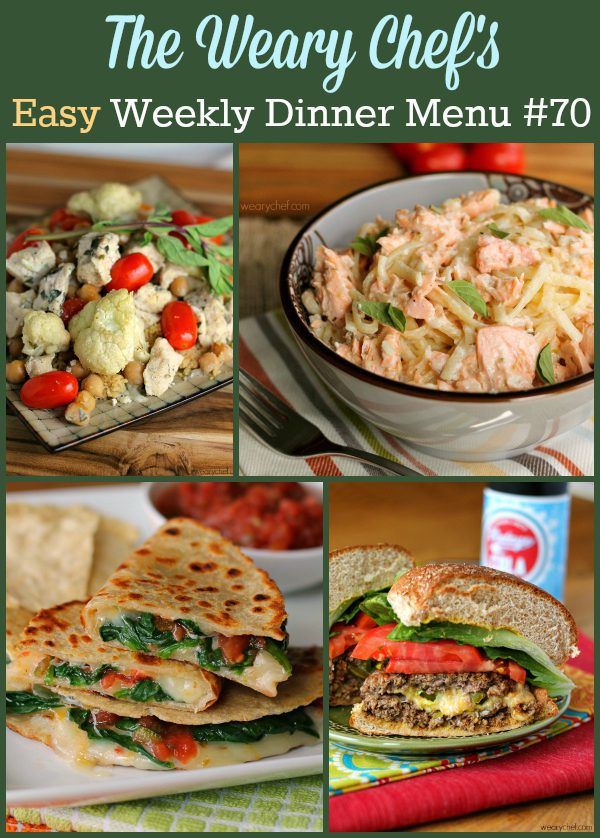 Hi! How are you? Did you happen to notice that this is my 70th easy weekly dinner menu? Doesn't that sound like a lot? There's nothing special about hitting the number 70 or anything. It just struck me as a lot of weeks of dinner menus. Are you still hanging in there? Unless I hear complaints, I'm going to keep on bringing you seven dinner ideas each week. I think a big party is in order when we hit week 100, maybe a big fat giveaway! Usually big occasions call for big prizes, but I might do LOTS of prizes instead of one big one. Think twenty $25 winners or something like that so that I could thank lots of you instead of just one winner.
I'm getting ahead of myself. In 30 weeks, it will be September! My kid will be in third grade. My hair will be grayer. I will have written almost 100 more recipes. Now I'm starting to freak out. Let's just think about THIS WEEK. I have some good dinners for you. Cheesy quesadillas. Stuffed Burgers. A Healthy Stir Fry. Sorry about that last one, but we have to make up for all that cheese! Now dig in:
Looking for dessert? Don't miss these Coconut Chocolate Snickerdoodle Bars!