This crowd-pleasing Mexican Sour Cream Dip Recipe is perfect for last-minute guests. We already know that almost everybody is in love with dipping and nachos. They are the perfect appetizers, as they are easy to eat and simply delicious. So, as long as you are equipped with dozen of paper towels, you can easily spare 5 minutes to prepare this licking-finger good recipe.
All you need is sour cream, salsa, shredded cheese, and a few spices. Moreover, if you don't have at your disposal these exact ingredients, you can easily change them with similar ones. Try to remember, that even if you don't exactly respect the recipe, as long as your purpose is to serve delicious dip, you're covered. However, if you intend to get a traditional Mexican sour cream dip, you should closely follow this recipe. But, no matter which outcome you're here for, you'll be ready for dipping in five minutes!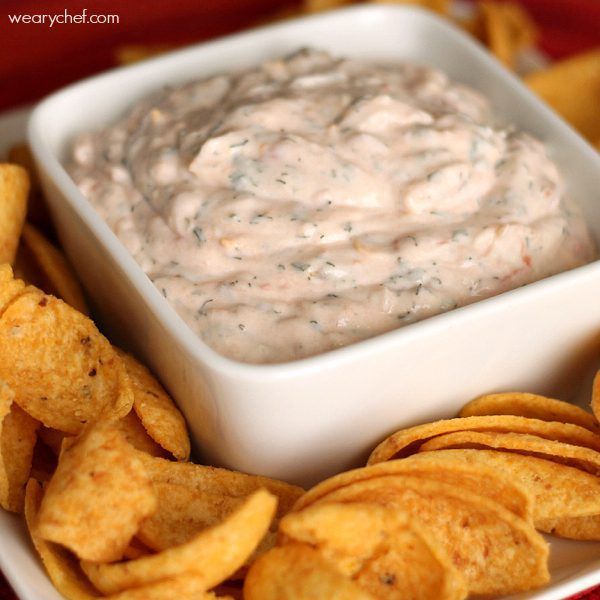 Everybody Just Loves the Sour Cream Dip!
Do you need a quick appetizer that is sure to be a crowd favorite? This is one of my best recipes for a last-minute appetizer, and it's good for just about any occasion. Just set the table using a lot of paper towels, bring the chips, and everything's ready!
I first made this sour cream dip on Christmas Eve when I needed something to take to a party. However, I was too frazzled to cook anything complicated. So, this recipe took shape, and now I use it for any special occasion. It's funny how it quickly disappears at the party, and how everybody compliments it! They just can't believe how easy is actually to make.
Moreover, I usually have all the ingredients to whip up a bowl of this dip at any given time. This turned out to be just great for any situation that includes unexpected guests or kids saying, "Mom! I'm hungry!" (One of my kids seems to say that approximately every 15 minutes.)
As well, you might have all the ingredients for this easy Mexican dip in your kitchen right now too. All you need is sour cream, salsa, a few spice cabinet staples, and shredded Mexican cheese. After checking that out, we are ready to prepare the dip.
Preparing the Sour Cream Dip
All set? Great! Now just stir everything together, and serve it up with any kind of chip you'd like. This goes perfectly with potato or corn chips. Also, you can even dip fresh veggies in it if you are into that sort of thing. However, I prefer to consider potatoes and corn my vegetables when I'm dipping. Plus, salsa has tomatoes, right?
Give this easy dip a try, and I think it will become a fast favorite at your house.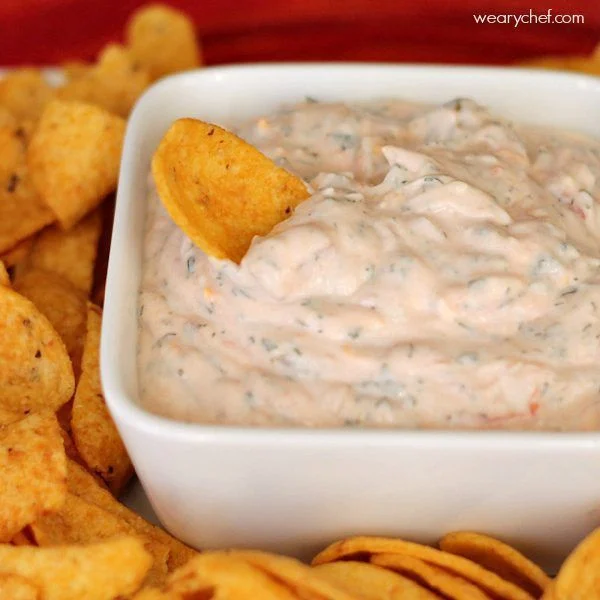 | | |
| --- | --- |
| | |
Stir everything together except the chips.

Dip the chips into this tasty concoction and enjoy!
You can substitute 1/2 packet of Ranch seasoning mix for the seasonings if you prefer, but this method is cheaper and skips the preservatives!
Happy Dipping!
Finally, tell us what you think about this recipe. I already know how easy-to-make can be for almost everybody, as I first recommended it to some friends. So, share your opinion in taste and flavors. What will you change about it and how will you adapt it, in the future, for your family? Also, share your experience with it. How did your children react to it? Is it too spicy for your friends? Tell us everything in the comments section and ask your further question in the same place.
I'll make sure to read all of your comments and respond to them as quickly as possible. Now, enough with the chitchat and happy dipping, you all!
Do you love dips as I do? Here are more dip recipes you won't want to miss!