Yesterday we went with friends to a lake beach that is perfect for little ones. You can sit in the shade, the water is calm and shallow, and there are showers and changing rooms in the bathroom. The kids were having a fabulous time, and I was mostly able to sit and talk to my friend while they splashed in the water nearby. When it came time for lunch, we called everyone to our towels. My two went to wash their hands in the lake while I pulled out sandwiches.
A couple minutes later, a lifeguard walked over to tell us that my little 2-year-old couldn't be in the water alone. Of course he couldn't! How did I let this happen? I thought he was safe with his brother, and I only turned my back for a minute. The Short One is fearless and thinks nothing of wandering off, wading into deep water, or climbing as high as he can. It only takes a moment for him to get away from me. He was safe and sound of course, but I felt embarrassed and ashamed to have a stranger call me on being neglectful.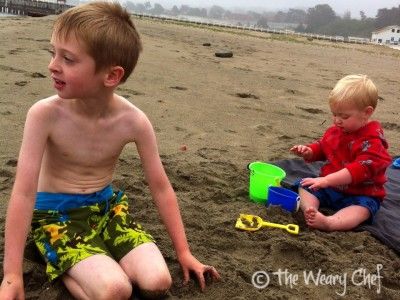 I am absolutely one of those overprotective parents you read about, a mom who tries to protect her kids from injury at all costs. I think slides and climbing structures are too high at playgrounds, hills are too steep for bikes, and kids should surely be at least in high school before they cross the street alone. How was I the mom letting her toddler wander into the water unattended? I will be haunted for months or even years thinking about what could have happened, and I'm not just saying that to be dramatic. There are still a few mistakes I've made in the past that keep me up at night even though nothing bad happened.
Do you worry about what-ifs after something bad could have happened, even if it didn't?  Are you an overprotective parent too, or do you like your kids to be free to take risks in order to challenge themselves and feel successful?
Speaking of water, I must have had a hankering for seafood after being in landlocked Tennessee for a few days because this week's meal plan is unwittingly packed full of easy seafood dishes. I know some of you may have an allergy or aversion to seafood, or it may be cost prohibitive where you live. Never fear! I offered tasty fish-free alternative dishes just for you!
Crab and Corn Chowder with Bacon and Jalapeno – We had this hearty soup the night we got home from our trip. We had eaten out so much while out of town that I really wanted something homemade, but I was also weary from traveling all day. This dish was a perfect solution because it was so easy. Serve with sliced cucumber and tomato or a side salad.  Alternative: Potato Corn Chowder.
Red Thai Curry with Shrimp and Asparagus – Every time I have bought frozen shrimp in California, they have been deveined. I grabbed a bag of shrimp this week that was a new brand I didn't recognize and turns out they were intact. Growing up on the Mississippi coast, shrimp were plentiful and I had never heard of removing the vein (AKA intestine) until I moved away. Now it seems wrong to eat the whole thing, so I painstakingly deveined them all with my thumbnail while peeling them. They only tasted that much better after putting so much work in. The Pants said this Red Thai Curry was as good as a restaurant, and I hope you will like it too. Please see the note at the end of the recipe about substituting chicken for shrimp.
Salmon and Vegetables over Rice – This dish is a classic in our house, so delicious and ready in about 25 minutes.  If you aren't in the mood for salmon, try this instead:  Sausage and Vegetable Stir Fry over Rice.
Spinach and Chicken Enchiladas Verdes – I love spinach but had never had it in enchilada form. This version is quite tasty and a complete meal since the veggies are baked inside! Add some extra vitamin C with a Fresh Margarita.
Italian Sausage Pasta Bake – No week would be complete without a pasta dish, and this is one of my favorites!
Shrimp Salad with Corn and Tangy Lime Dressing – Remember those labor intensive shrimp from the curry?  Well guess what.  They came in a two-pound bag!  I had the pleasure of prepping the other pound the next day for this salad.  The salad itself is so simple to make that I didn't even mind the extra of work on the shrimp.
Almost Homemade Pizza – The Pants had a work dinner this week at a German restaurant (yum), so the boys and I had a pizza party. We got an unbaked cheese pizza from Costco, but you could get the same from your local supermarket. Throw on your favorite toppings, and you have hot, fresh pizza for a fraction of the cost of delivery. We chose bacon and black olives, and I added sliced tomatoes and jalapenos to my half.
Don't miss out on any recipes, photos, or funny tidbits!Follow me on:Twitter, Facebook, Pinterest, Google+ or Bloglovin!You can subscribe to posts by email too!Just enter your email address here.I'm looking forward to keeping in touch with you!