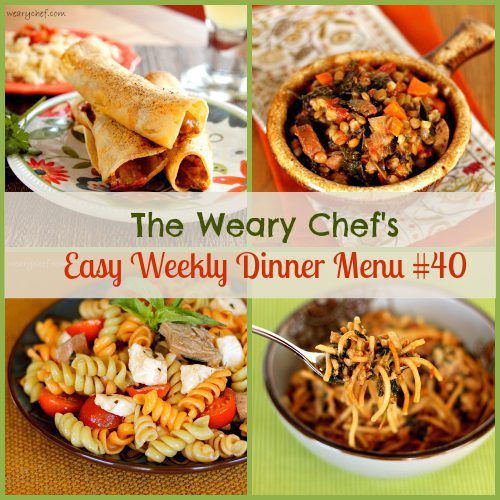 Hello there! How has your week been? Mine has flown by! It was full of play dates, appointments, errands, and writing, so I guess just the usual. I do have some news when it comes to the writing part though: I'm branching out with where I share my recipes!
You may have noticed that I am already a guest contributor at The Best Blog Recipes, although that is a temporary gig. I also made a cameo appearance at Recipe Chatter a couple months ago and hope to find time to write there again soon as well. The big news is that, starting today, I will be sharing a new dinner recipe every week at Bay Area Todays Mama! My TodaysMama recipes will appear in my weekly menu just like other dinner ideas I share here on The Weary Chef. I would love for you to leave a comment if you pay me a visit over there to let me know you stopped by!
If you are a mom blogger and are interested in writing for TodaysMama, they are still looking for more contributors. They have local sites for the entire US, not just the Bay Area, and they are very nice to work with. Check them out if you are interested. Now, let's get to the FOOD!
Healthy Kale and Sausage Stew – This was my first recipe at TodaysMama! It is surely the healthiest dish I've ever written, but don't worry. It still tastes delicious! 
Easy Bagel Pizzas – Looking for an easy, fun, frugal dinner idea? Grab some mini bagels (whole wheat in this case), pizza sauce, shredded mozzarella cheese, and whatever toppings you like. You could even set up a pizza bar and have everyone build their own! Pop in a 350 degree oven for 10-15 minutes and dinner is served! We had sliced fruit and baby carrots on the side. Easy! 
Creamy Turkey Spaghetti – This is a major recipe revamp, so much so that it hardly resembles the original! I shared this spaghetti recipe early on in my blogging days but gave it a makeover this week. I know you will love this new tastier version!
Steak Caprese Pasta Salad – If you are an email subscriber, you may have noticed that I said I would deliver a Caprese recipe about two weeks ago and didn't deliver. It's finally here, except this isn't even the dish I originally had in mind. It's darn good though, as you might expect when it comes to adding STEAK to salad!
Baked Turkey Taquitos with Mexican Coleslaw– These taquitos are a fun change from usual tacos, and the coleslaw only takes about 5 minutes to make!


Tuna Melt Tostadas – I love this fun dinner, and it couldn't be much simpler to make!
2-Ingredient BBQ Chicken Sandwiches – Serve these easy sandwiches with frozen fries heated for 25 minutes at 450 degrees and you will have a happy family!
If you are reading this before 11/15/2013, be sure to enter to win a $500 wine prize package while the giveaway is still on! Thanks so much for reading, and have a great week!