These Chinese Green Beans with Ground Turkey are one of my most popular recipes! This dinner is quick, flavorful, and healthy. I bet it will be a hit at your house too!
I've mentioned that we live in San Francisco and are surrounded by AMAZING Asian cuisine, so we're pretty picky about our Chinese food. At first I thought ground turkey in an Asian-inspired dish seemed peculiar, but then I remembered having something similar that had ground pork instead. Pork. Turkey. What's the difference, right? I'm so glad I decided to try these Chinese Green Beans with Ground Turkey because this meal was delicious! To make it even better, this dinner takes less than 30 minutes to prepare!
Adapted from recipes from The Lemon Bowl and Cook Snap Savour.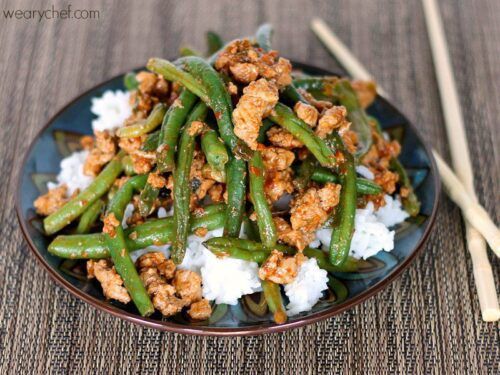 Start rice cooking in lightly salted water.

When rice is about 15 minutes from done, heat large skillet over high heat. Add sesame oil, and sauté green onions and garlic for about 2 minutes. Stir in ground turkey and sauté 3-5 minutes, until meat is mostly cooked. Crumble meat as much as possible.

Stir in chili garlic sauce, hoisin sauce, and ginger. Add green beans and soy sauce, and stir to coat. Continue cooking over high heat for 7-9 minutes longer, stirring frequently, until beans are slightly tender.

Stir in rice vinegar, and cook one minute longer. Serve over cooked rice.
These are a few of my kitchen staples for Asian recipes:
 I think you'll also love these recipes: