These Chinese Green Beans with Ground Turkey are one of my most popular recipes! This dinner is quick, flavorful, and healthy. I bet it will be a hit at your house!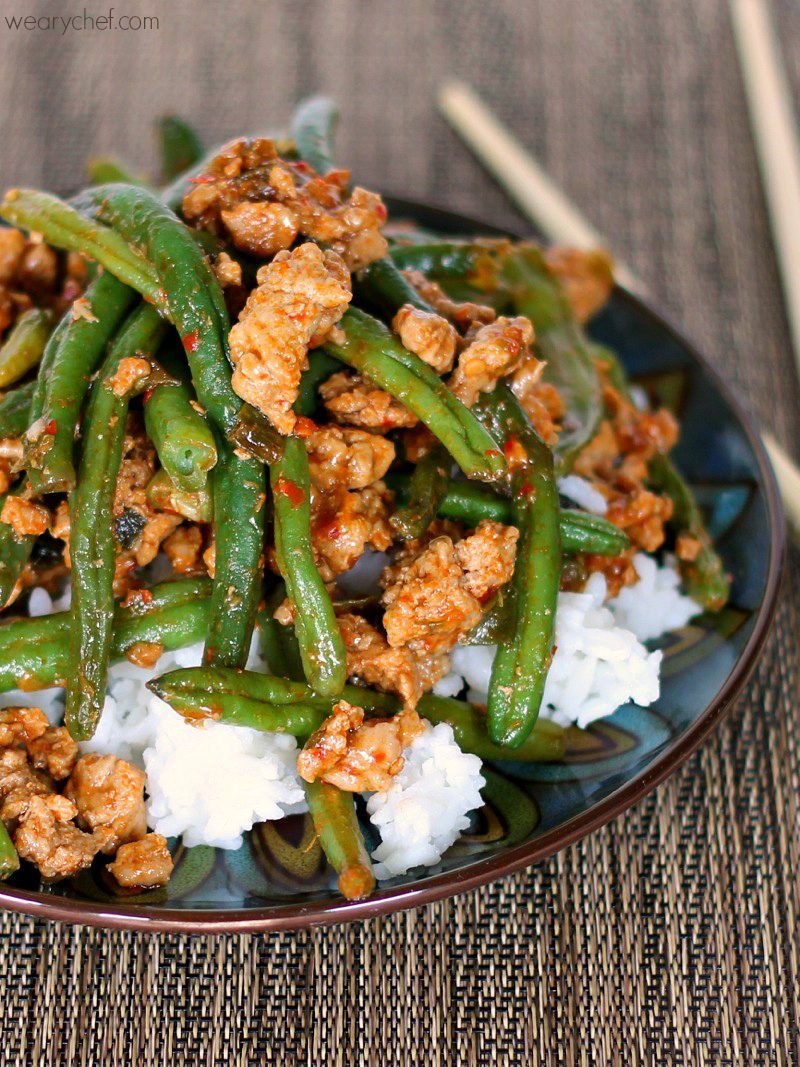 I've mentioned that we live in San Francisco and are surrounded by AMAZING Asian cuisine, so we're pretty picky about our Chinese food. When I saw a couple ground turkey stir fry recipes floating around, I thought turkey in an Asian-inspired dish seemed peculiar, but then I remembered having something similar that had ground pork instead. Pork. Turkey. What's the difference, right? I'm so glad I decided to try these Chinese Green Beans with Ground Turkey because this meal was delicious! To make it even better, this dinner takes less than 30 minutes to prepare!
My oldest usually turns his nose up at green beans when I make them, but he makes an exception for Chinese green beans. I can't understand that kid. He won't eat gravy or spaghetti sauce, but he loves sushi and anything smothered in black bean sauce. It's hard to say he's picky exactly. Maybe he just has discerning taste. He's certainly growing up in the right city. We didn't have a lot of Asian food options when I was a kid in Mississippi! Fortunately I'm making up for it as an adult.
Sign up to never miss an easy recipe!
This green bean stir fry was born for weeknights. If you can find Chinese long beans in your supermarket, those make the recipe taste even more authentic. If not, regular American green beans are fine too. Just make sure they are fresh (not canned!) for a great result.
Click the thumbnails below for more images and suggested recipes!
Chinese Green Beans with Ground Turkey over Rice
Click here to customize your meal plan and generate your grocery shopping list!
Chinese Green Beans with Ground Turkey over Rice

Click here to customize your meal plan and generate your grocery shopping list!
1

small bunch green onions

1

teaspoon

crushed ginger

1

pound

washed and trimmed green beans

or Chinese long beans if available

1

tablespoon

seasoned rice vinegar
Start rice cooking in lightly salted water.

When rice is about 15 minutes from done, heat large skillet over high heat. Add sesame oil, and sauté green onions and garlic for about 2 minutes. Stir in ground turkey and sauté 3-5 minutes, until meat is mostly cooked. Crumble meat as much as possible.

Stir in chili garlic sauce, hoisin sauce, and ginger. Add green beans and soy sauce, and stir to coat. Continue cooking over high heat for 7-9 minutes longer, stirring frequently, until beans are slightly tender.

Stir in rice vinegar, and cook one minute longer. Serve over cooked rice.
© The Weary Chef 2013-2016
Here are a few of my must-haves for Asian cooking!
These are affiliate links, so I earn a small commission from any purchases at no additional cost to you. Thank you for supporting The Weary Chef!
 I think you'll also love these recipes: