This week's dinner menu features recipes on the healthier side like lettuce wraps, spaghetti squash alfredo, low fat etouffee, and more!
Long-time readers, do you remember that time I told you I joined a gym? Do you remember when I told you next week that it didn't go so well? Guess what. I joined another gym! It's the YMCA actually, and I'm hoping to stick with it this time. For real.
I really don't like gyms or exercise, but I feel like I should do this. I'm 39 and feeling my age. Also, I took an anxiety medicine that helped me gain 15 pounds, and it's not coming off. The Y has a pool where I can take my kids, and then I'll feel like a more fun mom. I also joined the Y because I am not very social and think it will be good for me to get out of the house and be with other people a little more. Are you a member of a gym or other kind of workout class/group? Why do you do it?
I should be eating healthier too. Actually, I do think I eat reasonably healthy, but I should just be eating less I think. That's the hard part. I feel like I'll go hungry if I just eat salad for lunch or don't have a mountain of food for dinner. It's also hard for me to figure out what to call "healthy" since different experts/diets contradict each other. That's part of my problem with trying to eat better! Am I supposed to be cutting carbs or fat? Or both? If both, I think I'll starve. If I bounce back and forth between low fat and low carb, I think I shoot myself in the foot because I'm eating too many carbs AND too much fat overall. It all makes my head hurt.
This week's dinner menu is full of recipes that I think are pretty healthy. You may or may not agree, but I do hope you find some easy meals you want to try! You can add all the recipes to your weekly meal plan at the end of the post. Here are the recipes!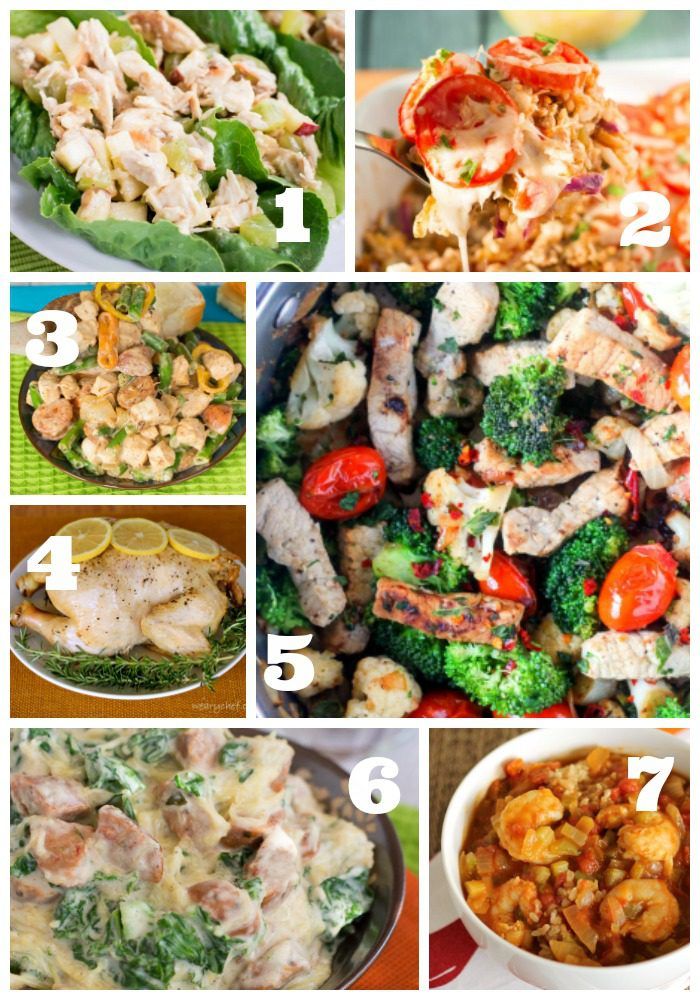 To add all these recipes to your meal plan, click the button below. You can go here to customize your meal plan and grocery list. Email me if you have problems or questions!
January 1SaturdayDay 1
January 2SundayDay 2
January 3MondayDay 3
January 4TuesdayDay 4
January 5WednesdayDay 5

Breakfast

Dinner

Waldorf Chicken Salad

(4)

Taco Salad Casserole

(4)

Cajun Sausage and Chicken Stir Fry

(4)

Slow Cooker Roasted Chicken with Lemon and Rosemary

(4)

(4)

Dessert

Crustless Apple Cinnamon Cheesecake

(8)

Flourless Cookies with Chocolate Chips and Oatmeal (and eggless too!)

(18)

Click on a recipe for more details

Selected Recipe:

Selected Recipes:
Save to Meal Planner Add Course Print Recipes Print Plan Generate Shopping List
Add GroupAdd Ingredient Save Print